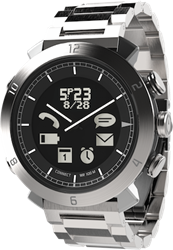 Through the app, the goal of the activity experience is to enable users to learn about their habits, and to use that learning to create meaningful change in their lives.
San Diego, CA (PRWEB) February 25, 2015
ConnecteDevice releases an update to the connected watch app that brings activity monitoring to its full range of COGITO watches. Users will be prompted for an over-the-air watch software update that activates the internal accelerometer in both COGITO CLASSIC and COGITO POP models, including those currently in use and on store shelves.
COGITO takes a holistic approach to monitoring overall activity levels, providing valuable insights into the user's lifestyle. COGITO divides time into three activity levels: very active, slightly active and at rest. The user interface is not about improving performance, but instead helping consumers improve their life through incremental changes.
With the Activity Monitor, users gain the ability to:
— Track their steps
— Track distance walked or run
— Track total calories (including calories expended while resting)
— Track activity level (rest, light activity, very active)
— Receive inactivity reminders to remind them to move
Henri-Nicolas Olivier, CEO at ConnecteDevice, says, "Through the app, the goal of the activity experience is to enable users to learn about their habits, and to use that learning to create meaningful change in their lives. The COGITO activity monitor puts the step count in context — it's not about obsessing over steps, but rather creating balance in your life."
"COGITO delivers the activity feature in a way that offers the consumer real advantages," continues Henri-Nicolas Olivier. "The activity monitor continues with or without the phone in your hands, and it does not require a recharge. COGITO remains the no-charge smartwatch, even with the addition of this great feature."
COGITO CLASSIC brings together the power of a connected watch with the sophistication of a precision-crafted timepiece, seamlessly uniting classic analog movement and intuitive digital notifications. When paired with the app, users can manage a wide range of smartphone functions directly on their wrist — call notifications, social media and message alerts (Facebook, Twitter, Skype, WhatsApp, WeChat), music control, camera activation and more. On the watch face, users can track their step count.
COGITO POP is a fashion watch with a connected twist, blending vibrant colors and trendy design with essential notifications from the smartphone. Created for maximum mainstream appeal, COGITO POP combines fun and functionality to make the smartwatch more accessible to a larger public and a more natural experience for the user. LED icons on the watch face alert users when they have a call, an email or a message on social media sites. The easy-to-use interface lets users manage not just calls, but also trigger their camera, control their music and locate their phone.
Unlike other smartwatches, COGITO never needs to be charged. The button-cell battery provides uninterrupted power for months (depending on usage) without requiring an external charge. With the addition of the activity feature, COGITO continues to offer the full benefit of long-life, no-charge battery.
Water resistance up to 10 ATM allows COGITO to follow active users, even in wet situations when the phone cannot be in their hands. The watch can be worn in the rain, at the beach and similar activities without worry.
For samples or additional information, please visit cogitowatch.com/ or contact chelsea(at)chicblvd(dot)com
Contact:
ChicExecs PR
http://www.chicexecs.com
1487 Poinsettia Ave. Ste. 125
Vista, CA 92081
310.569.6586
ChicExecs PR is an "out of the box" PR company which represents over 70 clients. ChicExecs has created an innovative approach to PR dedicated to helping small-medium businesses receive media coverage. Our revolutionary automated system is changing the face of PR. To learn more about ChicExecs visit http://www.chicexecs.com.