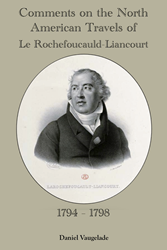 The duke was the clearest expositor of what life was like in America in the late-18th century." Professor Patrice Higonnet
(PRWEB) February 26, 2015
Ms Yohn and Dr. Dyckman's translation of Monsieur Vaugelade's work will be the first comprehensive summary of the duc de la Rochefoucauld's North American "voyage" printed in English since the duc's journals were first published in 1799. Tocqueville scholar Hugh Brogan, Professor Emeritus, University of Essex Colchester, United Kingdom will provide a foreword that places la Rochefoucauld's massive work in the context of the duc's time.
Duke Alexandre François de La Rochefoucauld-Liancourt fled France at the time of its September Massacres in 1792. He made his way from England to America, where he remained five years. During his self-imposed exile, the duke traveled from "le Haute-Canada" above Lake Ontario to Charleston, South Carolina. He returned to France following the coup of 18 Brumaire in 1799, which marked the beginning of the French Consulate and reign of Napoleon.
La Rochefoucauld returned to France with eight volumes of observations on what he saw during his American "voyage". His association with the agricultural and social reform initiatives sponsored by his scholarly aunt and progressive cousin provided lenses through which La Rochefoucauld viewed America. His journals are part to a body of work, which includes Chastellux's Voyages, Crèvecoeur's Letters from an American Farmer, Chateaubriand's Journey to North America, and Tocqueville's Democracy in America. Thomas Jefferson's Notes on the State of Virginia might be added to this list. La Rochefoucauld-Liancourt's observations are unique among these for their analyses of the American economy. The duke's insights extend beyond these observations, however. Thirty years before Tocqueville, he described why the new American nation would become the symbol of democracy and freedom.
About the Author:
Monsieur Vaugelade chose to highlight the most important themes in the duke's 1800 page journal. Among the items M. Vaugelade discusses are Le Rochefoucauld's descriptions of America's natural wonders, the plight of Indians and slaves, and the irrepressible passion of Americans for money and speculation. Democratic gentleman and philanthropist, founder of Arts and Crafts, co-founder of the Caisse d'Epargne, La Rochefoucaul returned to France more freedom-loving and more enterprising than ever. This is the third work M. Vaugelade has written about the La Rochefoucauld family. It is the second to be published in the "ghost library" collection of Chateau de la Roche-Guyon.
About Commonwealth Books of Virginia
CBOV is where history, philosophy and art meet. We publish books about bright ideas: who created them; how they became influential; who they influenced; and what these individuals did with them. We answer these questions by immersing ourselves in the History of Ideas. We truly get to know who invented the idea. We find out what they looked like, where they lived, how they spent their time and who they associated with. For more information about CBOV, please visit http://www.commonwealthbooks.org.