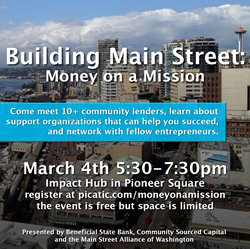 Seattle, WA (PRWEB) February 26, 2015
As a community development financial institution, Beneficial State Bank has the opportunity to meet many small business owners in varying stages of development and financing need. While we always work hard to provide capital to traditionally under-served markets, it's not always possible to meet our obligations to our depositors and our underwriting criteria for lending. So instead, we work with many mission-aligned capital providers who are able to lend when we cannot or provide platforms of funding from non-traditional sources like crowd-funding.
To support this aim, we started the "Money on a Mission" series in October 2014 in Portland, OR. This one-night event is a fun and productive way to bring together capital and technical assistance providers, entrepreneurs and small business owners.
Our next "Money on a Mission" event will take place Wednesday, March 4, 2015 from 5:30pm - 7:30pm at the Seattle Impact Hub. This event is ideal for business owners looking to grow their business. In the Seattle area there are dozens of banks, community lenders, and crowdfunding options for small businesses, as well as organizations that support growing businesses in a myriad of ways. Please join us!
Featured speakers include:

Rachel Maxwell, CEO and Founder, Community Sourced Capital
Kat Taylor, Co-Founder & Co-CEO, Beneficial State Bank
Makini Howell, Owner, Plum Restaurant
Tiffany Turner, Owner, The Adrift Hotel
This event is co-hosted by Beneficial State Bank, Community Sourced Capital, and the Main Street Alliance of Washington.
Learn more at https://www.picatic.com/moneyonamission.