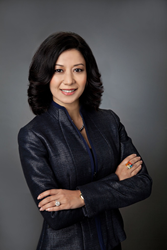 My passion lies in listening to and helping our advisor community and their clients reach their investment goals.
San Jose, CA (PRWEB) February 25, 2015
Loring Ward, the provider of investment management and practice development consulting, announced that Payel Farasat has joined the firm as Chief Investment Officer. She will direct investment policy, research and portfolio management strategies for the company.
"We are thrilled to have Payel leading our investment committee and bringing her years of investment acumen and direct advisor and client experience," said Loring Ward President and CEO Alex Potts. "She will further enhance our investment team, which includes Nobel Laureate, Dr. Harry Markowitz, Behavioral Finance Pioneer, Dr. Meir Statman, and Joni Clark, CFA, CFP."
Farasat spent the past seven years at Charles Schwab & Co., most recently as the Western Regional Vice President and earlier as Senior Manager of Strategic Trading. Before joining Schwab, she was a financial advisor with Ameriprise Financial, Inc., providing comprehensive financial planning and asset management to high-net worth clients. She has consulted extensively on sophisticated financial analysis, portfolio strategies, and implementation with hundreds of chief investment strategists, committees, and boards.
Farasat earned a BA in economics, with a double minor in computer science and business administration, from University of California at Berkeley, and a M.Sc. in financial analysis from University of San Francisco, both with honors.
"Loring Ward is a dynamic firm with a strong reputation," says Farasat. "It is my privilege to lead the talented team of investment professionals at our firm. My passion lies in listening to and helping our advisor community and their clients reach their investment goals. With that in view, my team and I look forward to providing relevant and innovative analysis and perspective."
About Loring Ward
Headquartered in San Jose, California, Loring Ward (LWI Financial Inc.) is been dedicated to helping independent advisors become the most trusted and valued professional in their clients' lives.
Loring Ward's Asset Class Investing philosophy combines almost nine decades of market data, Nobel Prize-winning academic research and the latest discoveries in behavioral finance.
From Investment Management to Business Management to Practice Development, Loring Ward has more than a quarter century of experience giving advisors the tools, training and support to provide a world-class experience for their clients.
As of February 2015, Loring Ward has $12.4 billion in assets under management. For more information, please visit http://www.loringward.com.
LWI Financial Inc. ("Loring Ward") is an investment adviser registered with the Securities and Exchange Commission. Securities transactions are offered through its affiliate, Loring Ward Securities Inc., member FINRA/SIPC. R 15-049 (Exp 2/17).