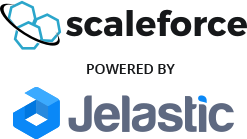 To provide a state-of-art universal platform and peace-of-mind applications, Scaleforce established a partnership with Jelastic to generate highly reliable and a scalable virtual data center without limits, suitable for all European companies
Palo Alto, Calif. (PRWEB) February 26, 2015
Jelastic, Inc., the first company that combined Unlimited PaaS (Platform-as-a-Service) and Container-Based IaaS (Infrastructure-as-a-Service) into one solution, has announced their partnership with UK based cloud provider Scaleforce. The company was founded by three Internet pioneers that have more than ten years experience in the industry in creating and leading successful technological companies.
IDC reported last year that by 2017, IT buyers will actively channel 20% of their IT budgets through industry clouds to enable flexible collaboration, information sharing, and commerce. IDC is also predicting that by 2016, there will be an 11% shift of IT budget away from traditional in-house IT delivery, towards various versions of cloud as a new delivery model. By 2017, 35% of new applications will use cloud-enabled continuous delivery and DevOps lifecycles for faster rollout of new features and business innovation.
In line with these forecasts, Scaleforce follow the philosophy that cloud development is not only necessary to stay ahead of the curve, it must also be easy. Most applications should need little to no changes to take them to the cloud, there should be no hosting provider or service lock-in, the service should be really cost-effective, and scaling should be handled automatically by the platform.
"Cloud is not going anywhere and we are seeing this with an influx of new partners from across the world. Organizations need to leverage this to create new user engagements and superior efficiencies that boost the bottom line," said Ruslan Synytsky, Jelastic CEO. "On-demand and flexible provider-based services are driving fast-paced internal IT diversification and we are ready to partner with visionary companies like Scaleforce to help them to seamlessly provide the best solution."
By implementing Jelastic, the Scaleforce team are close to accomplishing these goals via a platform that can: natively run any Tomcat/MariaDB/MySQL/PostgreSQL/MongoDB application with no code changes required; automatically vertically scale up and down as an application's load changes – so their customers get the advantages of cloud scalability and dynamic pricing without having to re-architect their code.
"To provide a state-of-art universal platform and peace-of-mind applications, Scaleforce established a partnership with Jelastic to generate highly reliable and a scalable virtual data center without limits, suitable for all European companies," said Theodore Filippidis, Scaleforce CEO.
From the beginning Jelastic has been the pioneer PaaS using containers virtualization technology for application deployment/lifecycle management/scalability and ZERO CC. In addition, Jelastic provides unique vertical scaling for all application containers with load spikes and variable loads in general. The granular vertical scaling provides the ability to scale up and down stateful apps, legacy apps and apps that were not designed for horizontal scaling, resulting in flexible pricing for end customers.
Jelastic supports popular programming languages such as Java, PHP, Ruby, Node.js, Python and .NET and provides the maximum application density, the fastest deployment model and the easiest management for private, public and hybrid Clouds, all while retaining the flexibility to customize infrastructure and application configurations. A wide choice of software stacks by default, plus Docker and Cartridges templates, plugins for Eclipse, IntelliJ IDEA, NetBeans IDEs and other technologies integrated inside make Jelastic a turnkey Cloud with a complex solution.
About Scaleforce
Scaleforce is an innovative hosting company located in the United Kingdom and focused on the delivery of high quality cloud computing for SMB's and developers. Being inspired by the unique platform of Jelastic, Scaleforce was founded in 2014, by three internet pioneers who have a decade track record in the IT industry and a high level of competence in founding and successful leading of technological companies.
About Jelastic
Jelastic, Inc. is the first company that combined unlimited PaaS ease of use (developer's productivity) and the IaaS flexibility (agility) within a single platform. Jelastic is a venture-backed enterprise software company that enables hosting service providers, systems integrators, enterprises and OEMs to unleash the full potential of the cloud to generate superior ROI and efficiencies. Investors in Jelastic are Runa Capital, Almaz Capital and Maxfield Capital.
For more information visit us at http://www.jelastic.com, or follow us on Twitter at http://www.twitter.com/Jelastic, and Like Us on Facebook at http://www.facebook.com/jelastic