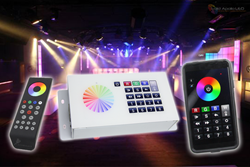 We can see that as lighting technology progresses the ability to control every part of lighting is becoming more common place
Seattle, WA (PRWEB) February 26, 2015
DMX lighting control will become common place in almost every home in the near future. As the technology for complex DMX systems becomes more user friendly and comes down in price for the average consumer, DMX lighting control systems will be utilized by more and more people. Energy saving LED's already come ready to take on a large range of customizable lighting options, where the color and brightness can be infinitely controlled, but are hampered by current non-DMX controllers. By applying DMX control, the full range of control options are finally possible, such as custom programs that can be created and played back, or tying a variety of different lighting systems together and getting them to speak the same language, or even adapting sensors such as motion detectors. As the need for more energy efficient lighting enters more households and workplaces, and in some places has already become a requirement by law, the ability to utilize and incorporate DMX controllers will be more common place.
Currently non-DMX lighting controllers are limited to pre-programmed color changing options, and only being able to save a handful of chosen colors and brightness levels. DMX systems have been largely expensive and unpleasing to look at, and even more confusing to learn and program. DMX systems are usually seen controlling event lighting, or continuous display lighting and even high-end home lighting, in which case a technician is hired to program how the lights react over a certain amount of time, or by hour to hour throughout the year. Solid Apollo LED is changing this by offering more user friendly and value priced DMX controllers, from more detailed systems where every aspect of multiple lighting systems can be controlled and programmed with included software, to less complex DMX controllers with a color wheel and simple button selection from any smartphone or tablet.
"We can see that as lighting technology progresses the ability to control every part of lighting is becoming more common place" said Manuel Barquin, CEO of Solid Apollo LED, "we see the current trends and how lighting customization is wanted by more and more consumers. We believe we offer some of the most user-friendly and budget friendly DMX controllers on the market." One of the more detailed controllers offered which can handle every aspect of lighting and store custom made lighting programs is the SlimDMX 512 Wall Controller. The contemporary wall mount design has uncluttered front mount buttons, and an internal memory that can store up to 10 different lighting programs. The included software can program color effects, color chases, transitions and even time based schedules on any LED lighting fixture such as LED wall washers and even LED strip lights.
Solid Apollo LED saw the need for a more user friendly and simpler DMX control system and created the DMX Boss Wi-Fi Controller for simple DMX control of up to 8 DMX enabled lighting zones using any Smartphone or Tablet. The DMX Boss includes many features all in one device and can control DMX lighting fixtures several different ways, using Smartphone or Tablet control, using the wall control interface or by an optional remote control. DMX enabled lights can be controlled with the touch of a button, using the color wheel for subtle accent lighting or with the built in lighting programs for amazing color changing effects. The DMX Boss is perfect for controlling a variety of DMX enabled lighting setups such as restaurant or club lighting, where the multiple lighting zone control and built in color changing programs take the guess work out of creating exciting lighting environments. The DMX Boss can even control indoor and outdoor lighting for dramatic architectural and landscape lighting, or use the DMX Boss for hospitality lighting by offering subtle lighting control to match décor or for color changing lighting to bring an energized ambiance to any location.
With more technology able to handle more systems, and bringing simpler control to our fingertips, look to Solid Apollo LED for the latest DMX control systems, from extensive multifaceted control options, to simple smartphone and tablet control options.
Solid Apollo strives to bring the latest premium LED lighting products to everyone at affordable prices, and backs up each of its products with a full warranty and a 30 day money back guarantee. Solid Apollo manufactures and distributes a wide range of indoor and outdoor LED lighting products and solutions and offers free shipping on orders over $150, and excellent customer service and technical advice.