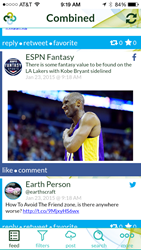 Over the past year we have taken our loyal users valuable feedback and have incorporated that along with proper execution to bring you the app you have been waiting for" Says Chris Burnett Project Manager
Cincinnati, OH (PRWEB) March 02, 2015
A recent study shows Americans spend around 27% of their daily activities on social media. With so many social sites to keep track of, one could spend even more time on the phone. But it doesn't have to be this way. SocialPoint.me is an app that combines all your favorite networks into one app. With a relaunch today from an existing app and website, SocialPoint has a brand new look and feel, with updated networks. SocialPoint.me is your new one stop app for everything social.
There are 3 new additions to the SocialPoint app.. there are 2 apps for iOS, a Free and Premium version, and one for Android users, with in app purchases. All of these are available for download today.
"Our goal is to listen to all of the requests and suggestions of our users and incorporate them into an app that will make their social media experience more useful and enjoyable, "said Chris Burnett, SocialPoint's Vice President.