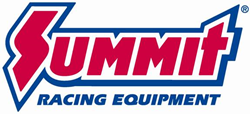 Tallmadge, OH (PRWEB) March 03, 2015
Keeping a race car cool pass after pass or in the thick of heat can be a challenge. C&R Racing Universal Radiator Modules are up to the job--the modules combine a two-row, all-aluminum radiator with a 16 inch diameter SPAL high performance electric fan.
What makes the Modules even better is the fan mounting system. C&R uses the same fan ring used in NASCAR competition; the .100 inch thick aluminum is bolted to the radiator with ARP fasteners. Bolting the fan to the radiator eliminates the chance for the fan to move around on the radiator, and seals the fan to the core for increased cooling capability.
The C&R Racing Universal Radiator Modules come fully assembled and ready for installation. The radiators use C&R Racing's replaceable inlets (not included), available to adapt 1.25 inch, 1.5 inch, 1.75 inch hose barb to -20 AN male inlet. A 30 psi radiator cap is required for racing use.
Summit Racing Equipment
http://www.SummitRacing.com
1-800-230-3030