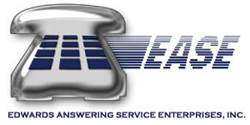 We're fully dedicated to providing exceptional customer service and we'll always put your business first.
Los Angeles, CA (PRWEB) February 27, 2015
Businesses signing up for the first time with Edwards Answering Service will enjoy three billing cycles at no charge during their first year. This offer is only valid for clients who sign up for new services. The savings are the company's way of expressing appreciation to new customers for trying the personalized live phone operator service they have featured since it was founded in 1954.
This incredible resource for business owners offers 24/7/365 operations, mobile and on-line services allowing clients to manage their account(s), customized account programming, generator and UPS backup, remote operation availability and quality control evaluation and monitoring.
Internet technology has assumed control of many of today's business services but nothing has replaced the value of having phone calls handled in a friendly, efficient manner by a real person. Constantly rising operating costs can make installing a new phone system equipped to handle today's business needs prohibitively expensive.
The three-billing-cycle no-charge opportunity for new Edwards clients is a comfortable, helpful incentive to see how their system works. It has been very successful for businesses in the commercial industry whose customers need fast service and who need to maintain contact with their employees in the field. In addition, it can work well for medical and health care companies who need to maintain reliable appointment records and protect individual medical histories from falling into the wrong hands; and small professional offices such as law firms or accounting agencies which find it costly to hire full-time receptionists and assistants.
Entrepreneurs often find that as their new venture becomes established and begins to grow, the breadth of services available from a good business call center can be of great help; even if their company is internet/technology based.
The three-month credit on new client's first year of service with Edwards is open to first time clients only. To take advantage of this special offer visit http://www.edwardsansweringservice.com or contact one of their friendly phone operators today for promotion details. Some exclusions do apply to this offer.
Contact Information:
Ron Wendus
1-800-606-3273
sales(at)edwardsansweringservice(dot)com