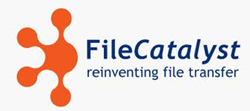 The Middle East is an important region that we are excited to be expanding our presence in
Ottawa, Canada (PRWEB) February 26, 2015
Unlimi-Tech Software, Inc., a pioneer in managed file transfers and the Emmy® Award winning creator of FileCatalyst, is happy to announce they will be attending CABSAT at the Dubai World Trade Center to demonstrate their accelerated file transfer solutions.
Members of the FileCatalyst team will be headed to CABSAT in Dubai from March 10-12, 2015 to exhibit the latest updates to their suite of accelerated file transfer solutions in Hall 4 at Stand 220. The team will be available to provide demonstrations of their file transfer products, answer any questions, and meet with attendees for one-on-one meetings to discuss individual file transfer needs. Attendees will also have a chance to win an Apple TV.
With over 900 exhibitors and 12,000 attendees, CABSAT is the number one broadcast, satellite, and digital media event in the Middle East, Africa, and South Asia and an industry networking platform for all businesses involved in capturing, exchanging, managing, distributing, and monetizing content.
"FileCatalyst is excited to be going back to Dubai for CABSAT 2015," said Unlimi-Tech co-founder and President, John Tkaczewski. "The Middle East is an important region that we are excited to be expanding our presence in, not only in the media and broadcasting space, but in oil and gas and other industries as well."
Also exhibiting at CABSAT are FileCatalyst partners: QC Infotech, (Hall 4, Stand 220), INC Systems Integration (Hall 1, Stand F1-20), Cambridge Imaging Systems (Hall 3, Stand D3-41), Disk Archive Corporation (Hall 3, Stand D3-33), Easy Media Suite (Hall 3, Stand 307), Harmonic Inc. (Hall 1, Stand B1-30), Tedial (Hall 3, Stand C3-40), and Vizrt (Hall 3, Stand D3-10)
About Unlimi-Tech Software, Inc.
Located in Ottawa, Canada, Unlimi-Tech, a pioneer in managed file transfers, is the creator of FileCatalyst, an Emmy® Award winning accelerated file transfer solution. Founded in 2000, the company has more than one thousand customers in media and entertainment, energy and mining, gaming, and printing, including many Fortune 500 companies as well as military and government organizations. FileCatalyst is a software platform designed to accelerate and manage file transfers securely and reliably. FileCatalyst is immune to the effects that latency and packet loss have on traditional file transfer methods like FTP, HTTP, or CIFS. Global organizations use FileCatalyst to solve issues related to file transfer, including content distribution, file sharing, and offsite backups. To learn more visit filecatalyst.com or @FileCatalyst on Twitter.
About CABSAT
For 21 years, CABSAT has evolved to be the number one event in the Middle East, Africa, and South Asia region for all industry professionals within the Broadcast, Satellite, Content Delivery and Digital Media sectors. CABSAT covers the creation, exchange, management, distribution and monetization of all filmed entertainment and radio content. The event connects live content opportunities and encourages collaborative partnerships which brings together the world's leading content producers and connects them with every imaginable delivery platform. For more information, visit http://www.cabsat.com.