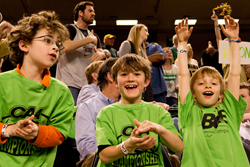 Our tournament provides a fantastic atmosphere for young people to see other young people play basketball at a high level
BALTIMORE, MD (PRWEB) February 26, 2015
The Colonial Athletic Association (CAA) is thrilled to announce various kid-friendly events happening at the 2015 CAA Men's Basketball Championship, which returns to Royal Farms Arena March 6-9, 2015.
The first night of the tournament (Friday, March 6th) is Youth Night at the CAA Men's Basketball Championship. All children 12 years and younger will receive a free ticket courtesy of the College Savings Plans of Maryland. One ticket provides entry to both games and tickets for accompanying adults are just $10 (half-price.) All participating kids and families will be seated together in the 200 Level Reserved sections. Tickets for Youth Night are only sold at the box office and tickets are available starting at 5 p.m. on Friday, March 6th.
The league is also offering special ticket offers for youth basketball players and Boy Scouts and Girl Scouts throughout the entire championship. As part of the Youth Basketball and Scout Appreciation offers, youth basketball players and scouts will receive a free ticket for any night of the championship. Accompanying friends and family can attend for just $16 and all participants will be seated in the 200 level of the Arena. Tickets are redeemable for any individual session of the championship and are available for redemption on multiple days. More information on these appreciation offers can be located here.
"Our tournament provides a fantastic atmosphere for young people to see other young people play college basketball at a high level," said CAA Commissioner Tom Yeager. "We invite all kids and their parents to enjoy the CAA Championship and we hope they'll take advantage of these exciting offers"
The tournament begins Friday night at 6 p.m. with first round games between the lower seeded teams and continues Saturday with four quarterfinal games. The semifinals take place Sunday and the championship game will be held Monday night March 9th at 7 p.m. The CAA includes reigning tournament champion University of Delaware, College of Charleston, Drexel University, Elon University, Hofstra University, James Madison University, University of North Carolina Wilmington, Northeastern University, Towson University and the College of William and Mary. These teams will battle for the conference championship title as well as an automatic bid to the NCAA Division I Men's Basketball Championship to compete in March Madness. Fans can visit Ticketmaster.com to reserve seats now.
For additional information on the CAA Men's Basketball Championship, visit the #CAAHoops Championship Central page.
Follow Us!
Facebook.com/CAASports – YouTube.com/CAASports – Instagram @CAASports –
Twitter @CAABasketball – #CAAHoops & #CAABaltimore!