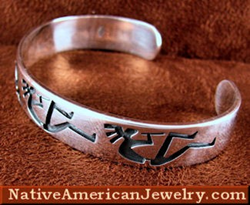 Spring symbolism in Native American culture is much respected because it is all about beginning the process that will strengthen and care for the tribe
Phoenix, AZ (PRWEB) February 28, 2015
As the chills of winter dissipate and the sun begins to warm the west, the season of spring emerges. Warm weather, rain showers, and healthy soil all are staples of the new months that bring sunshine and healthy crop planting. With the pleasantries of spring also come many Native American symbols, celebrations, and cultural beliefs that center on the yearly change.
"Native Americans historically relied on weather changes to track time, and in that, the correct times to plant and harvest crops," said NativeAmericanJewerly.com spokesperson Steven Onida. "Spring in particular has some beautiful symbolism and celebrations associated with it."
Onida explains that the symbol of the Kokopelli, a dancing figure playing a flute, is one of the most prominent symbols seen in the spring. "The Kokopelli is known among many Native American Tribes to mean fertility for the earth. The symbol represents the spring rain that will make the soil healthy for new crops to grow, and the people living on the land will have a bountiful harvest as a result."
NativeAmericanJewelry.com, which features authentic American Indian jewelry and accessories, has brought in new pieces with the Kokopelli along with other spring-centric symbolism from North American tribes.
"It is considered good luck to wear or carry the symbolism with you during this time," said Onida. "Spring symbolism in Native American culture is much respected because it is all about beginning the process that will strengthen and care for the tribe."
NativeAmericanJewelry.com has made available necklaces, pendants, earrings, and more that feature the Kokopelli, corn, rain and rain clouds, and a variety of other cultural imagery that has historically played a role in the tradition of respecting the coming of spring.
"The Spring Equinox was celebrated each year by many North American tribes," said Onida, who then added that tribes had a variety of differing traditions to show their appreciation for spring. This included actions such as planting rain sticks in the ground, feasting together, and spending weeks performing ceremonies with music and dancing.
To shop authentic Native American spring jewelry, visit NativeAmericanJewelry.com today.