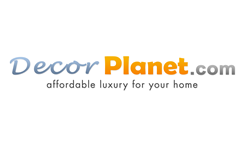 New York, NY (PRWEB) February 26, 2015
Luxury bathroom and home supply retailer DecorPlanet.com launched a new website that offers customers a more convenient shopping experience and more choices of home decor; the new website features expanded product lines, more online payment options, and a design that is easier for customers to navigate. One of the main goals of the recent redesign was to improve usability for new and returning customers alike, but the new website also offers customers more choices of home furnishings and decor; to accompany the launch of the website, DecorPlanet.com introduced thousands of new products for the bathroom, kitchen, and other parts of the home interior. The new website allows customers to easily search through extensive selection of products, identify the items that they want, and complete the checkout process. To facilitate a faster payment process, the new site now offers various secure and timesaving new payment options, including PayPal, and Amazon Checkout, in addition to accepting more traditional methods of payment, such as credit and debit cards.
DecorPlanet.com's new website allows shoppers to find their desired home decor products in various ways, including searching for specific items or brands; browsing items that have arrived recently or items that are on sale; and choosing from one of several decor categories, including fans and lighting, kitchen decor, doors, toilets, faucets, tubs and showers, mirrors, and bathroom furnishings. Visitors can also click on home page banners to learn more about sales that Decor Planet is currently offering, available shipping options, and the company's price matching guarantee. The new website design also makes it easier for customers to get help choosing the correct item or understanding Decor Planet's policies; customers can find immediate online support by visiting the Frequently Asked Questions page or by using the live chat feature to speak with a representative.
About DecorPlanet.com
DecorPlanet.com is a home and bathroom product supply company that offers customers modern and luxury products at discount or wholesale prices; by maintaining a high sales volume and buying directly from manufacturers, the company can offer customers cost savings without sacrificing quality. Customer satisfaction is a top priority, with price matching and safe shopping guarantees, reasonable shipping and return policies, and three showroom locations in New York, which customers can visit for a firsthand look at the products they are interested in buying. For more information, please visit http://www.decorplanet.com.