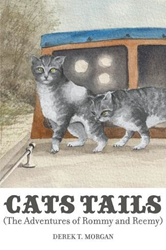 'Cats Tails' is a wonderful story of friendship and family, perfect for young readers. - Robert Fletcher, CEO of Strategic Book Publishing and Rights Agency
(PRWEB) March 02, 2015
Join along in the first of a series of charming children's books by Derek T. Morgan.
"Cats Tails (The Adventures of Rommy and Reemy)" takes you along with two twin kittens who are adopted by a family living on a Yorkshire canal houseboat. Life on the houseboat is never boring, as Rommy and Reemy manage to get into all sorts of trouble. The kittens pal around with the other cats prowling along the waterfront, and learn all about their new home.
Rommy and Reemy decide that everything is more fun when you have friends who care about you! As long as there are cats, there will be more "Cats Tails."
Watch the Video on the attached PDF or at http://www.youtube.com/watch?v=Kfhq1gCkSCU
About the Author: Derek T. Morgan lives and works in Yorkshire and is kept busy with his grown-up children and grandchildren. Together with his family, he lived on a boat on the canal for a number of years and though now a landlubber, the inspiration for "Cats Tails" was born from this experience. Most of the characters in the book are based on pets, both living and dead which he has known or owned. May their memories live on!
CATS TAILS (THE ADVENTURES OF ROMMY AND REEMY) (ISBN: 978-1-60976-729-7) will be available on March 5, 2011 for $20.95 and can be ordered through the publisher's website:
http://www.strategicpublishinggroup.com/title/CatsTails.html or at Amazon and Barnes and Noble. Wholesalers, please email BookOrder(at)AEG-Online-Store(dot)com.