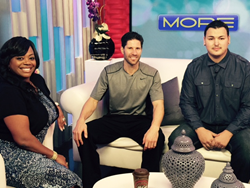 I'm so happy with my results, I want everyone to know how easy it is to look the way they want.
Las Vegas, NV (PRWEB) February 26, 2015
Jimmy's problem is similar to many men and women across the country. He was in great shape when he was a younger, competitive athlete. When he stopped working out and training, he quickly gained weight and lost his athletic body along with his confidence.
After hearing about MyShape Lipo's specialist Trevor Schmidt PA-C and seeing the amazing results that have changed so many lives, Jimmy knew that he needed to take major action to achieve the changes he wanted. He tried diet and exercise with only limited success.
"I'm tired of looking and feeling fat," says Jimmy. "It amazes me how quickly my confidence changed after I had chin liposuction. People noticed immediately which proved to me that I made the right decision."
Being on the radio, Jimmy has been able to hide behind the microphone for many years. Since having the procedure, Jimmy has had the confidence to go on FOX 5' s morning show, "More" to discuss his experience.
"Jimmy has had a great response to his chin liposuction," says Schmidt. "He went from somewhat timid prior to the procedure to a happy, funny and talkative professional just days after his procedure. The transformation has been fun to watch."
Jimmy chose to have liposuction to his chin, neck and jowls. He did extremely well throughout the entire procedure, which took all of 45 minutes. He was able to drive himself home and return to work the following day. His story is all too common with patients of MyShape Lipo.
"We get a lot of people in the same situation as Jimmy," says Schmidt. "When people have this internal view of themselves as being thin and athletic, it's hard to see themselves as a fatter version. These individuals are desperate to get back to their thinner days and liposuction is a great way to do this."
With his renewed confidence, Jimmy felt comfortable getting in front of the camera to join liposuction specialist and owner of MyShape Lipo, Trevor Schmidt PA-C on the "More" show. He took this opportunity to share his amazing story with the world.
"I'm so happy with my results, I want everyone to know how easy it is to look the way you want," says Tuma. "I barely felt anything throughout the procedure. Trevor and his staff made the whole process a breeze. I see other people with double chins and now I have to tell them that it doesn't have to be that way."
About MyShape Lipo
A specialty liposuction clinic located in Las Vegas, MyShape Lipo attracts patients from around the world who take advantage of their affordable rates and specialty services. Trevor Schmidt PA-C, the owner and liposuction specialist has the experience of over 15,000 liposuction procedures. They also offer fat transfer to the breasts, butt, face and hands for a natural enhancement as well as Smart Lipo laser skin tightening for those concerned about loose skin. For a complementary "Body Shape Analysis" in person or over the phone with pictures, call now 702-818-5476 or visit their site at http://www.MyShapeLipo.com.