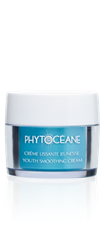 Pistacia Resin Oil enhances collagen synthesis to redensify the dermis and replenish youth proteins that are lost with age.
SAINT-MALO, FRANCE (PRWEB) February 26, 2015
Available in select spas in the United States and at http://www.lespausa.com
Phytocéane introduces YOUTH SMOOTHING CREAM, part of the anti-aging collection. YOUTH SMOOTHING CREAM employs five key ingredients to soften and smooth the skin, reducing the appearance of fine lines and wrinkles from the very first signs of skin aging. Revolutionary ingredient Pistacia Resin Oil enhances collagen synthesis to redensify the dermis and replenish youth proteins that are lost with age. Marine Samphire Oil and Gorse Oil enhance cell renewal to diminish the appearance of wrinkles and fine lines while Phormidium shields the skin from free-radical damage. Marine Spring Water, high in trace elements and minerals, smoothes and firms the skin. YOUTH SMOOTHING CREAM has a subtle floral scent with notes of violet, rose, jasmine and lily of the valley. It has a light, creamy texture and glides onto the skin, leaving skin exceptionally smooth, soft and glowing.
YOUTH SMOOTHING CREAM........................................50 ml, suggested retail price $76.50
Directions for use: Apply morning and/or evening to the entire face and neck.
Key Ingredients:

Pistacia Resin Oil - extracted from the crystalline tears of the Pistacia plant. Capable of restoring the Klotho youth protein to boost collagen production. Densifies the dermis and improves skin firmness.
Marine Samphire Oil - smoothes wrinkles and stimulates cellular renewal. Densifying effect.
Gorse Oil - boosts cellular cohesion and renewal. Helps combat tissue slackening.
Phormidium - protects the skin from free radicals produced by external stresses such as UV, pollution, smoking, stress, lack of sleep, etc.
Marine Spring Water - antioxidant. Activates collagen and elastin production.
Phytocéane at a glance:
When exploring the secrets of Phytocéane you will discover a natural, marine brand that reveals precious JEWELS OF THE SEA and sets itself apart as a true treasure in the spa industry. Nestled in the heart of the Emerald Coast in France, Phytocéane embodies the region's timeless tradition of travel, escape and discovery. This professional, naturally-based facial and body care line utilizes resources and ingredients found in the most pristine, beautiful seas around the world. We are one of the only spa brands with our own laboratory, allowing us to research and cultivate our own ingredients, develop unique cosmetic formulas, manufacture skin care products and create cutting-edge professional treatments to deliver remarkable results.