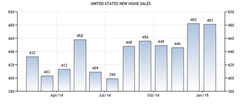 The decrease in refinance activity was entirely due to interest rates rising for all loan types
(PRWEB) February 25, 2015
Lenders like Peoples Home Equity digested both good and bad news on Wednesday, February 25th.
On one hand, weekly mortgage applications declined; on the other, new home sales beat expectations.
As shown in todays Mortgage Bankers Association (MBA) weekly survey report, mortgage applications fell -3.5% for the week ending on February 20th. The report noted that "the refinance share of mortgage activity decreased to 62 percent of total applications from 66 percent the previous week." The decrease in refinance activity was entirely due to interest rates rising for all loan types. The MBA stated that the average rate "for 30-year fixed-rate mortgages with conforming loan balances ($417,000 or less) increased to 3.99 percent from 3.93 percent." As for "30-year fixed-rate mortgages with jumbo loan balances (greater than $417,000)" rates increased to 4.09% from 3.92% the week prior. 15 year fixed rates increased to 3.28% from 3.24% and 5/1 ARM's increased to 3.28% from 3.09%.
After reading a disappointing yet understandable mortgage applications report, lenders received the latest new home sales data announcement from U.S. Census Bureau. New home sales decreased just -0.20% from December, from an annual pace of 482,000 in December to 481,000 in January. The market was expecting to see a decline down to 450,000 to 470,000. This report comes just one day after David M. Blitzer, Managing Director and Chairman of the Index Committee at S&P Dow Jones Indices, stated, "The housing recovery is faltering. While prices and sales of existing homes are close to normal, construction and new home sales remain weak." To which Peoples Home Equity commented on in an release yesterday titled "Housing Data: A Bit Of Good, A Bit Of Bad" saying, "Peoples Home Equity takes a different view, the lender thinks housing starts remain at respectable levels during this winter." Indeed new home sales have remained at respectable levels for two consecutive months now. This is while builder confidence has fallen. However, builders still know that America has a lot of pent up demand for housing. Peoples Home Equity has been following millennial buyers closely as it knows young, first-time home buyers are very eager to stop paying rent.
Of the two housing data announcements today, Peoples Home Equity gives a bit more weight to the fact that January new home sales beat expectations rather than weekly mortgage applications falling. Peoples Home Equity knows applications remain seasonally weak and thinks it may remain so until the end of tax season. Americans want to finish filing their 2014 tax first to prove their new found employment or high earnings to their loan officer first before applying for a home loan.
If in need of a mortgage, contact a Peoples Home Equity loan officer today at: 262-563-4026