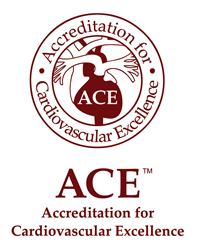 Washington, DC (PRWEB) February 26, 2015
Feel the warmth in sunny California this March while visiting the Accreditation for Cardiovascular Excellence (ACE) exhibits at two major cardiovascular meetings: the American College of Cardiology 2015 Scientific Sessions (ACC.15) and the 2015 National Cardiovascular Data Registry (NCDR.15) annual meeting.
Two ACE board members will be presenting and moderating sessions at ACC.15, which begins on March 14th at the San Diego Convention Center in San Diego, California. Hear from ACE experts on key issues shaping cardiovascular quality:

Ralph G. Brindis, MD, MPH, MACC, FSCAI, Past President of ACC and ACE Vice Chair, will present the James T. Dove Lecture, "What Will a 'Valuable' Cardiologist Have to do by 2020?" on March 14, 2015, at 12:25 pm.
Christopher J. White, M.D., FACC, MSCAI, FAHA, FESC, ACE Secretary, will moderate the session, "Appropriate Use and Quality Initiatives in Vascular Medicine and Intervention," on March 14, 2015, at 2:00 pm.
The ACC.15 program includes several other sessions of interest on cardiovascular quality:

March 14, 2015 - 10:00 am: Congenital Heart Disease: Quality & Outcomes
March 15, 2015 - 8:00 am: Transforming Care: Innovations in Delivery and Payment Systems for Cardiovascular Care
March 15, 2015 - 12:30 pm: Coming Attractions: Guidelines, Registries and Quality
March 16, 2015 -12:30 pm: Vascular Team Based Care: What Are the Essential Components for Success?
Interested in the NCDR cardiovascular quality improvement initiatives? ACE will be exhibiting at NCDR.15, which will be held March 12-13, 2015, at the Sheraton San Diego Hotel & Marina in San Diego, California. At NCDR.15, investigators will present new findings from major NCDR registries, including the CathPCI Registry®, the Peripheral Vascular Intervention (PVI) Registry®, and the IMPACT Registry® of pediatric and adult congenital heart disease patients. Meeting participants will gain practical insights for incorporating registry findings into quality improvement initiatives within their own cardiac catheterization laboratories.
Be sure to follow our meeting coverage on Twitter (@ACE_CVEXCEL) and stop by the ACE exhibit at ACC.15 (booth number 3610) and NCDR.15 to get the latest information on quality sessions. Request a copy of the new PVI (Peripheral Vascular Interventions) standards from an ACE representative while you are there.
About Accreditation for Cardiovascular Excellence (ACE)
ACE is the global leader in accreditation and external quality review services for all catheter-based cardiovascular procedures. ACE, an independent organization sponsored by the Society for Cardiovascular Angiography and Interventions (SCAI) and the American College of Cardiology Foundation (ACCF), offers independent evaluation and monitoring of facilities that provide cardiovascular care. By reviewing facility and operator performance and comparing clinical decision-making to nationally accepted best practices, ACE quality review and accreditation services play a critical role in continuous quality improvement programs. Join us. Let us exceed your expectations and provide a free consultation. Contact ACE at info(at)cvexcel(dot)org or call our office at 202.657.6859 or visit our website at http://www.cvexcel.org.