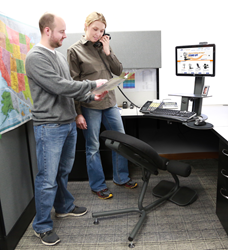 Conference attendees can observe how the 6100 TaskMate Executive and other HealthPostures' ergonomics workplace solutions operate firsthand.
Burnsville MN (PRWEB) February 26, 2015
HealthPostures , a leading American sit stand solutions designer, will join other top global ergonomics firms at the 18th Annual Applied Ergonomics Conference in Nashville, TN. The conference is sponsored by GoErgo, a worldwide resource for ergonomics designers and manufacturers. Additional sponsors are CNA, General Electric, Liberty Mutual Insurance, BSiF, FISO and Alliance Partners.
The 6100 TaskMate Executive, 6400 TaskMate EZ, 6300 TaskMate Go and the 5050 Stance Move EXT are ergonomics products that HealthPostures' Sales and Marketing manager, Scott McDonald, will exhibit at the applied ergonomics conference. The workplace solutions are built for niche markets. Aim of these products is to provide structural support to adult workers as they transition from sitting to standing. Reducing fatigue, accelerating the calorie burning process and improving worker mobility are more benefits that the ergonomics products are built to provide.
HealthPostures' executives share that, "Our bodies are made to move." Regarding their bestselling ergonomics products like the 6100 TaskMate Executive, the 6400 TaskMate EZ, the 6300 TaskMate Go and the 5050 Stance Move EXT, HealthPostures' executives say that the design of their sit to stand solutions help users to "feel energized and productive throughout your work day."
An electric sit stand solution, the 6100 TaskMate Executive automates the physical transition from sitting to standing. It is this benefit that makes HealthPostures' ergonomics solutions helpful to adults with health challenges like musculoskeletal disorders, carpal tunnel, migraine headaches and neck and back pain.
Conference attendees can observe how the 6100 TaskMate Executive and other HealthPostures' ergonomics workplace solutions operate firsthand. Attendees who visit HealthPostures' booth are also open to ask McDonald questions about how the solutions work with different types of office desks, computers, single and dual monitors and office chairs.
William Boyd, a member of the American Society of Safety Engineers, is the scheduled conference keynote speaker. Boyd will talk about ergonomics opportunities that conference attendees could take advantage of to introduce their solutions to a larger number of business, government and nonprofit leaders. By the close of the conference, attendees should have learned and grown from sharing valuable experiences with each other.
There will be educational sessions, roundtable discussions and workshops. Also, it is possible for engineering majors and designers who attend the conference to earn professional development hours or continuing education units. In addition to HealthPostures, conference exhibitors include Albion, ASSE, AmeriCart USA, Contour, the University of Michigan Center for Ergonomics and Working Concepts, Inc.
About HealthPostures
HealthPostures LLC (https://healthpostures.com) builds ergonomic and rehabilitative furniture and equipment that helps people to stay healthy while they work. The firm has been designing and manufacturing ergonomic sit stand solutions since 1996. Part of the company's mission is to "strive to provide quality products that will help transform your sedentary life so you have a healthy way to work." Healthy office solutions sit stand products Health Postures designs and manufactures include dual monitor sit stand work stations, monitor arm accessories, adjustable mouse stands, dual Stance move seat extensions, industrial surface Taskmates and Stance Move chairs.
Contact:
HealthPostures LLC
14310 Ewing Avenue South, Suite 100
Burnsville, MN 55306
800-277-1841
https://healthpostures.com
Sources:
http://www.iienet2.org/Ergo/Conference/default.aspx
https://healthpostures.com/