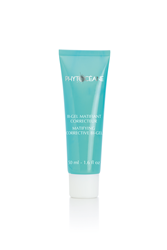 ...an all-in-one purifier with comprehensive action on blemishes, shine and pores.
SAINT-MALO, FRANCE (PRWEB) October 19, 2015
Available in select spas in the United States and at http://www.lespausa.com
Phytocéane introduces MATIFYING CORRECTIVE BI-GEL, the brand's first facial bi-gel, an all-in-one purifyer with comprehensive action on blemishes, shine and pores. PHYCOPUR, a marine sugar extracted from brown algae and zinc, speeds the repair of existing blemishes and prevents future breakouts by curbing sebum production and hindering the growth of acne-causing bacteria. Marine samphire oil unlocks clogged pores and helps eliminate dead cells, thoroughly cleansing and tightening pores for smoother looking skin, while an extract of exotic red vegetal coral restores moisture and minerals to the skin. MATIFYING CORRECTIVE BI-GEL has a refreshing floral scent with notes of lily of the valley and violet. Its bi-gel consistency "breaks" into a liquid on the skin for a burst of freshness. It has an ultra-light feel and matifying powders that absorb surface oils to immediately eliminate shine. Day after day, the skin is rebalanced - blemishes disappear, pores vanish and a cleaner, healthier complexion is revealed.
MATIFYING CORRECTIVE BI-GEL, 50 ml, suggested retail price $50.00
Directions for use: Apply morning and/or evening to entire face and neck on clean skin. Non-comedogenic.
Key ingredients:

PHYCOPUR - a marine sugar extracted from brown algae and zinc, selected for its multiple purifying actions.
Matifying action - reduces sebum production.
Anti-blemish action - inhibits the growth of bacteria responsible for acne.
Repairing action - reduces inflammatory reaction and improves the healing process.
Marine Samphire Oil - purifies pores. Smoothes and refines skin texture.
RUBIMARIN® - "moisturizing gem of the sea," extracted from exclusive Phytocéane laboratory-cultivated red vegetal coral Jania Rubens. Ultra-moisturizing and remineralizing.
Impressive results:
Less shiny skin for 9 out of 10 women*
Blemishes are less visible for 8 out of 10 women*
Tightened pores for 9 out of 10 women*
Moisturizing effectiveness: up to 52.4% after 4 hours**
*Clinical test on 21 women after 28 days of twice-daily application.
**Measurement with a Corneometer®
Phytocéane at a glance:
When exploring the secrets of Phytocéane you will discover a natural, marine brand that reveals precious JEWELS OF THE SEA and sets itself apart as a true treasure in the spa industry. Nestled in the heart of the Emerald Coast in France, Phytocéane embodies the region's timeless tradition of travel, escape and discovery. This professional, naturally-based facial and body care line utilizes resources and ingredients found in the most pristine, beautiful seas around the world. We are one of the only spa brands with our own laboratory, allowing us to research and cultivate our own ingredients, develop unique cosmetic formulas, manufacture skin care products and create cutting-edge professional treatments to deliver remarkable results.