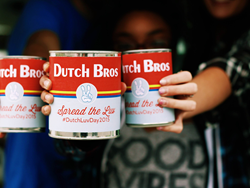 The impact we make on Dutch Luv Day is significant.
GRANTS PASS, Ore. (PRWEB) February 26, 2015
On Feb. 14, Dutch Bros. Coffee's company-wide food drive collected 487,966 pounds of nonperishable items for food banks across seven states, a 109 percent increase over last year's total.
"Unbelievable," said Dutch Bros. Coffee co-founder, Travis Boersma. "Once again, we've been blown away by the communities' support and willingness to make a difference."
All 240 Dutch Bros. Coffee locations took part in serving their local communities that day by offering customers a drink special in exchange for nonperishable food donation. Some locations also had baristas volunteer at the food banks the week prior to the event.
"There's no better feeling than knowing we're making an impact in the lives of people within our very own community," said Dutch Bros. Oroville franchisee, Bob Fulton. "This is Dutch Luv at its finest."
"We raised enough for 136,685 meals for Phoenix families in need," said Josh Hayes, Dutch Bros. Phoenix Regional Manager. "We are blown away and incredibly grateful."
To see original press release, visit dutchbros.com/news/dutch-luv-one-can-at-a-time.
###
About Dutch Bros. Coffee
Dutch Bros. Coffee is the country's largest privately held, drive-through coffee company, with over 240 locations and over 3,000 employees in seven states.
Serving specialty coffee drinks, smoothies, freezes, teas and a private-label Dutch Bros. Blue Rebel™ energy drink, Dutch Bros. is known for a special focus on its communities and customers.
Dutch Bros. Coffee was ranked by J.D. Power and Associates as highest in customer satisfaction compared to other coffee companies in its 2012 and 2013 Specialty Coffee Retailer Satisfaction Reports.
The company and its local owner-operators donate over $1 million annually in an effort to achieve their goal of investing in their local communities.
Dutch Bros. Coffee is headquartered in Grants Pass, Ore., and was founded in 1992 by dairy farmer brothers of Dutch descent. To learn more about Dutch Bros., visit http://www.dutchbros.com.