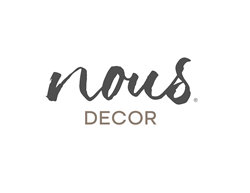 "Our mission with nousDECOR is to help anyone of any means create a beautiful, personalized home for themselves, because we believe in the power of design to transform lives," explains nousDECOR CEO Heather Gillette.
San Francisco, CA (PRWEB) February 26, 2015
nousDECOR®, an online interior design and home décor platform, today announced the launch of a campaign called "Design Matters" which aims to celebrate and showcase the power of design to change lives. In partnership with nonprofit Dwell with Dignity, nousDECOR will create, style and furnish gorgeous, personalized homes for two deserving families in 2015.
Acclaimed celebrity designer and nousDECOR Chief Designer Mark Cutler will personally design each space using nousDECOR tools, along with resources from Dwell with Dignity and products from several retail donors. Dwell with Dignity will announce the nousDECOR "Design Matters" partnership at the Design Bloggers Conference this week, and the home first home will be presented to the recipient family in May 2015 in Dallas. A second family in another U.S city will be selected to receive a "Design Matters" appointed home before the end of year.
"Our mission with nousDECOR from day one has been to help anyone of any means create a beautiful, personalized home for themselves, because we truly believe in the power of great design to transform lives," explains nousDECOR CEO and founder Heather Gillette. "Teaming up with an organization with such an established track record such as Dwell with Dignity is amazing. It's the perfect collaboration for us to create wonderfully decorated homes for deserving people, as well as the 'Design Matters' philosophy and campaign to life."
nousDECOR will facilitate donations to Dwell with Dignity by running a social media campaign around the hashtag #designmatters during the Design Bloggers Conference in Atlanta from February 25-27, 2015. Anyone who posts about their contribution of $5 or more with the hashtag #designmatters on social media channels will be entered into a drawing for a $500 gift certificate to Crate & Barrel. In addition, the San Francisco-based startup will sponsor a contest on its popular blog that invites interior designers and décor bloggers to share their personal stories about ways great design has changed lives. Designers and bloggers must submit their stories by March 31st, 2015 and the winning entry will be featured on the nousDECOR blog as well as given the chance to win additional prizes, including the ability to donate their prize toward the Design Matters recipient homes. For more information about the contest and campaign, visit http://www.nousdecor.com/designmatters.
"We are thrilled to partner with nousDECOR on their 'Design Matters' campaign, which aligns perfectly with our core belief at Dwell with Dignity that if we can change a person's surroundings, we can change their outlook on life," says Lisa Robison, founder & CEO of Dwell with Dignity. "Collaborating with nousDECOR Chief Designer Mark Cutler, who has worked with Hollywood A-list celebrities and won so many awards, is especially exciting for us. It's a great way to provide beautiful spaces for deserving families and to help raise awareness for our cause."
About Dwell with Dignity
Dwell with Dignity is a non-profit group of interior designers and volunteers dedicated to creating soothing, inspiring homes for families struggling with homelessness and poverty. They provide and install home interiors for families that include furnishings and art, bedding and kitchen supplies, as well as food in the pantry. Dwell with Dignity's mission is to help families escape poverty and homelessness through design, one household at a time. For more information, please visit http://www.dwellwithdignity.org.
About nousDECOR
nousDECOR® (http://www.nousdecor.com) is an online interior design platform that combines crowd-sourced ideas and inspiration with search tools and automated recommendations to provide users with everything they need to decorate a space. nousDECOR provides much more than beautiful images and links to products, but also all the resources you need to translate dream designs into reality, from intelligent search tools and a "Same Look Different Price" recommendation engine, to a moodboard builder and access to thousands of moodboards curated by design professionals and enthusiasts. The San Francisco Bay Area, California-based company closed a $2.1 million round of seed funding in October 2014.
# # #