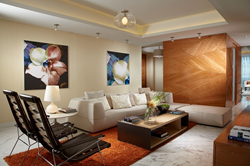 (PRWEB) February 26, 2015
Every year the social design website Houzz.com analyzes their community of over 25 million monthly users to determine which designers are taking center stage. This year J Design Group's state-of-the-art, bespoke creations were some of the most sought after projects, earning them the Best of Houzz 2015 awards in Design and Client Satisfaction.
For daring interior design geared toward the modern minded, J Design Group has the market cornered. Their high-end, turnkey packages have transformed countless blank canvases in the Southern Florida and Miami areas into coveted retreats for the soul. With a keen eye for combining functionality with beautiful aesthetics, they've been hired to complete high profile residential and commercial projects including The Bath Club Miami Beach luxury condos, baseball player Alex Gonzalez's personal residence, as well as football player for The Lions, Stephen Tulloch, and luxury homes in the heart of Key West.
As for how they earned their customer service accolades, look no further than the built-in convenience of their hands-on design process. When a client hires J Design Group, they receive a full service team that handles and supervises the project from its conception to the finishing touch. They obtain materials, manage the budget, and even oversee delivery and installation, ensuring no critical detail is left to chance. It's no wonder they've done complete interior designs of common areas, social clubs and hallways of major Related Group buildings in downtown Miami including Brickell as well as locations around the world like Cajun Grill and Suki Hana in Madrid, Sandals Resort in Antigua, Royal Cabana Casino and Entertainment Group in Aruba, and many more.
J Design Group has over 26 years of experience bringing their clients' dream interiors to life. Their clientele include hotels, restaurants, financial institutions, corporate facilities, and luxury homes in communities such as Key Biscayne, Sunny Isle, Miami Beach, Aventura, Pinecrest, South Beach, South Miami, Coral Gables, Miami and many other cities in different states all across USA and other countries. Their projects have been featured in such publications as Miami Home & Decor, Florida Design Magazine, Trends, and many more.