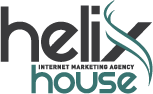 Phoenix, AZ (PRWEB) February 26, 2015
Helix House, a forward-looking and highly regarded Internet marketing agency reports record demand for the development of business websites. As more and more businesses discover the importance of having a quality website presence they are turning to Internet marketing firms that can help with a wide variety of web design services. Helix House is an Internet marketing agency that consistently helps businesses achieve favorable results through the proper implementation of website development. Through careful consideration of such parameters as style, design, font, color and navigation, web development services can achieve remarkable results for today's modern businesses. Helix House has a team of dedicated and experienced specialists that routinely develop some of the most innovative and attractive looking websites available today.
Helix House also specializes in a wide range of other Internet marketing advertising services such as social media marketing, email marketing, text message marketing, search engine marketing, and traditional search engine optimization services. Covering virtually every aspect of Internet marketing and advertising, Helix House can help businesses achieve remarkable results when it comes to gaining exposure online. Achieving top ranking in the search engines for specific keywords and key phrases is another important aspect of the overall Internet marketing concept. Helix House has a wealth of experience in working with keywords and keyword specific marketing. From developing high quality content that is designed to attract search engine interest to implementing careful linking strategies that are safe and secure, Helix House covers every aspect of Internet marketing for businesses.
Offering businesses many value added services, Helix House helps businesses in a wide range of industries become noticed online via search engine results. This natural and organic way of being noticed online is often preferred in many ways to paid advertising. This is due to the fact that visitors online often give greater credence to natural search engine results than to "paid" type advertising. Helping businesses achieve remarkable results with regard to top rankings in the search engines for specific keywords is what Helix House has been doing for a number of years. Few other companies can compare in terms of expertise in Internet marketing and Internet advertising. Helix House has gained the respect of the community by providing personalized high-quality Internet marketing and advertising services year after year.
Web development is just one more aspect of the total package offered by Helix House. The company focuses on highly intuitive websites that are easy to navigate and easy to understand. In many instances, simplicity is the order of the day when it comes to high-quality websites. Long gone are the days of complex, hard to navigate and hard to understand websites. Today's modern websites are easy to read, easy to understand and can deliver a message in a matter of seconds. Because online visitors typically have a very short attention span it is important to capture their attention as quickly as possible. Websites that are designed with this in mind can help businesses achieve remarkable results with regard to improved bottom-line performance and overall profitability. This recent announcement with regard to record demand for the development of business websites is further indication that Helix House stands behind its work and produces impressive results without exception.
Helix House is a highly innovative forward-looking Internet marketing agency located in sunny Arizona and beautiful New Mexico. The company has consistently exceeded industry expectations to routinely rank highest among some the best Internet marketing companies in the country. Recognized as an industry leader, this Internet marketing firm has helped hundreds of businesses across the country to gain better online ranking, online exposure and overall recognition. Helix House outpaces the competition year after year by leveraging the latest Internet technology, ideas and concepts to deliver extraordinary results for businesses large and small.