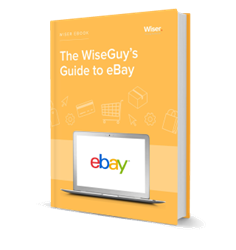 From selling tiers to the Cassini search engine, there is plenty to be aware of before selling on eBay.
San Francisco, CA (PRWEB) February 26, 2015
Wiser's latest eBook provides the top tips that eBay sellers need to know to optimize sales, from selling tiers to listing types to descriptions, and more. As of Q4 of 2014, the marketplace had 155.2 million active users. Altogether, the transactions completed on eBay account for 19% of the ecommerce market. From selling tiers to the Cassini search engine, there is plenty to be aware of before selling on eBay.
Arie Shpanya, CEO of Wiser, said, "The eBay marketplace is renowned for its combination of auction-style bidding and Buy It Now options, giving retailers several ways to sell their products. It provides sellers with not only incredible reach, but plenty of options when it comes to selling as well. This flexibility can be extremely beneficial, but confusing to retailers everywhere and we want to help them every step of the way on their eBay journey."
From understanding its features to monitoring customer feedback, Wiser's eBook provides sellers with advice on how to get discovered in a crowded marketplace. Sellers will learn that one of the best ways to ensure buyers discover their product is by optimizing keywords in their product titles. Including color, brand, and other identifiers is crucial and for a small fee sellers can even add a subtitle which has been proven to increase page views by 26%. It's also important for sellers to know that starting with lower bids can improve visibility. When listing your product, it's important to have the 10-day listing begin on Thursday and end on the following Sunday. That way the item gets two weekends worth of viewings, resulting in maximum visibility.
For retailers new to eBay, or for those looking for tips to succeed further on the marketplace, Wiser's eBook will outline how to build a solid foundation. Selling on eBay can turn a small investment into an incredible payoff. From optimizing product descriptions to mastering your keywords, Wiser's eBook can show retailers what it takes to succeed on eBay.
Click here to download the complimentary eBook.
…...…...…...…...…...…...…...…...…...…...…...…...…...…...…...…...…...…...…...…...…...…...…...............................................................................
About Wiser:
Wiser provides a complete suite of solutions to give retailers, brands, and manufacturers the edge to stay both competitive and most importantly, profitable.
Wiser's flagship product is WisePricer, full-featured dynamic pricing and merchandising engine that monitors, analyzes and reprices retail products in real-time. WisePricer enables retailers to boost profit margins and revenue, price with confidence, and improve merchandising through powering the development of a sound pricing strategy.
WisePricer seamlessly integrates with an eBay seller's account, and comes with preset repricing rules to target Top-Rated Plus sellers, in addition to customizable rules. Choose the only solution that supports both catalog and non-catalog items.
For more information on Wiser's eBay Repricer, please visit wiser.com