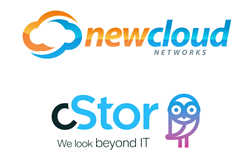 Our partnership with NewCloud enables cStor to provide our clients unique cloud offerings. NewCloud's flexibility allows us to build private, hybrid, and public cloud solutions specific to client's business needs. Peter Schmitt, cStor CTO
DENVER TECH CENTER, CO (PRWEB) February 26, 2015
NewCloud Networks, a national cloud computing and communications provider, today announced cStor a leading provider of data center and cloud technology solutions, has executed a reseller agreement enabling the company to offer NCN infrastructure as a service as part of their cloud and automation practice. NewCloud becomes only the second cloud services provider to fully integrate with cStor sales operations. All cStor sales representatives and solution architects can sell NewCloud hybrid cloud, desktop as a service, backup and disaster recovery, and Hosted VoIP immediately.
"The partnership with cStor has the potential to generate significant revenue for both parties," stated Sam V. Kumar, founder and president of NewCloud Networks. "cStor's strong presence in Arizona, New Mexico, Utah and Nevada will help NewCloud extend our reach to new customers and partners. NewCloud's diverse, unified cloud platform allows cStor to take an industry-leading offering to market without the significant investment involved with ground-up cloud architecture."
cStor cited NewCloud Network's 100% uptime track record, ultra low latency performance, low risk profile, ability to customize to meet complex customer needs, and technology synergies with NetApp and Cisco as reasons for selecting NewCloud as a strategic cloud launch partner. cStor is a NetApp Star Partner, which makes NCN's NetApp-based cloud platform an ideal integration candidate.
"Our partnership with NewCloud enables cStor to provide our clients unique cloud offerings. NewCloud's flexibility allows us to build private, hybrid, and public cloud solutions specific to client's business needs," said Peter Schmitt, chief technology officer of cStor.
For more information on the cStor and NewCloud announcement, please visit http://www.newcloudnetworks.com.
About cStor
cStor helps companies strategize, create, and implement data center solutions that address business needs. Now more than ever, innovative clients know that IT can be a highly-impactful enabler of business transformation, cost reduction, and competitive advantage. cStor's proven capabilities with key data center technologies provides clients with a fresh perspective, the ability to collaborate with recognized data center experts, and the confidence that goals will be met. cStor's team dedicates significant amounts of time and energy to be proficient in data center technologies. Hundreds of clients understand this value proposition—they know a focused, collaborative relationship with a creative, knowledgeable partner delivers superior results. For more information, visit http://www.cstor.com.
cStor Media Contact
Juli Yarnall
cStor
Phone: 480-760-213
juli.yarnall(at)cstor(dot)com
About NewCloud Networks
Founded in 1988, NewCloud Networks (NCN) is a national cloud computing and communications provider specializing in hybrid cloud, cloud desktops, backup and disaster recovery, and hosted PBX. 2,500+ customers and 2,000+ sales partners choose NewCloud for the trust that comes from an established, financially stable, and transparent cloud company. NCN delivers real value, maximum uptime and performance, and solutions that are customized to customer needs. NewCloud's unified cloud platform is SOC, HIPAA, and PCI compliant and features best-of-breed solutions that are priced competitively against commodity cloud offerings. The guiding principle - take care of customers, partners and employees and everything else will take care of itself - has led to a 95% cloud customer retention rate to date. Visit http://www.newcloudnetworks.com.
NewCloud Networks Media Contact
Mark W. Jobson
ActivPosition | Co-founder & CMO
Mark.Jobson(at)activposition(dot)com
+1 303-359-5452