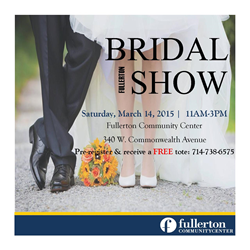 Fullerton, CA (PRWEB) February 26, 2015
The city of Fullerton proudly announces their 2015 Bridal Show featuring Ever-Pretty formal wear.
The show is scheduled to happen at the community center on Saturday, March 14 and will feature many vendors as well as the potential to win a wedding dream prize. The event runs from 11am-3pm and will feature information that is valuable for every bride-to-be.
Designs from style house Ever-Pretty will be on showcase as part of the show.
Founded in the US in 2011, Ever-Pretty provides reasonably priced formal gowns and excellent customer service for women of all body shapes. Ever-Pretty is an online fashion house priding themselves on helping young women look and feel beautiful through all walks of life.
Ever-Pretty was founded eight years ago in the European market. Since it's inception, CEO Anna Shi has moved forward with the desire to help women feel beautiful on every occasion of her life. This absolutely includes on her wedding day or her time as a bridesmaid!
In addition to designs by Ever Pretty, florists, formal wear professionals, DJs, hotels, photographers, catering companies and more will fill the community center with exhibits and photos to help making planning your big day a breeze.
Everyone in attendance will have the opportunity to be entered into a drawing for a variety of prizes. One lucky bride-to-be will walk away with the Grand Prize package and her choice of a ceremony or reception in the Community Center's state of the art Grand Hall or the option to host her event in the center's professionally landscaped courtyard at either sunset or under a canopy of stars. Either option is sure to provide the perfect backdrop to her big day!
To pre-register for the event please call the Fullerton Community Center at (714) 738-6575.
About Ever-Pretty US
Ever-Pretty US started out in Europe as Ever Pretty Garment Inc.; the company expanded to the U.S. in 2011 and now boasts more than 8 years of fashion industry experience. Ever-Pretty US gives shoppers easy online access to attractive, affordable, and high-quality dresses in a variety of styles, including bridesmaids, prom, homecoming, cocktail, evening, and club dresses; the company also offers expedited shipping, live help by phone or email, and various special tools, including sizing guides and color-based inventory searches, to ensure that shoppers find the perfect dress and get it in time for the next special event. To learn more about Ever-Pretty US, please visit http://www.us.ever-pretty.com.