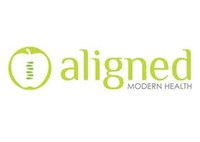 Chicago, IL (PRWEB) February 27, 2015
Aligned Modern Health, a Chicago area wellness company with five local neighborhood health centers, officially welcomes Dr. Alaina Gemelas, DC as lead doctor for Functional Medicine based in Aligned Modern Health's Lincoln Square, Streeterville, and Southport Corridor facilities.
Dr. Gemelas graduated from the National University of Health Sciences and was awarded the Joseph Janse Outstanding Graduate Award. She has completed post-graduate coursework in functional medicine, nutrition, clinical orthopedics, as well as in manual medicine such as McKenzie Diagnosis Therapy, various soft tissue therapies and adjusting techniques. She is also a graduate of Purdue University with Bachelor's and Master's degrees in Biology.
Dr. Gemelas is deeply committed to breaking the mold of conventional medicine by collaborating with her patients to provide individualized, patient-centered solutions to prevent and treat chronic illness and optimize wellness. She combines her unique background of chiropractic medicine, holistic nutrition, and traditional Chinese medicine to deliver personalized care. As a functional medicine practitioner, Dr. Gemelas places emphasis addressing root issues through nutritional therapies, hormone balancing, optimizing detoxification and lifestyle improvements.
Functional Medicine is an approach to healthcare that seeks to identify and address the root cause of health concerns, illness and Disease. Our practitioners believe that chronic disease is almost always preceded by a lengthy period of declining health in one or more of the systems of the body. At Aligned Modern Health we begin by conducting a thorough history of current lifestyle and behaviors, combined with specialized Diagnostic tests that we will perform or prescribe. Treatment is individualized and cooperative and we seek to create sustainable lifestyle and behavioral changes that seek to not just treat the symptoms but create a plan that will change the way you live.
Dr. Gemelas specializes in complex chronic health issues such as auto immune diseases (thyroiditis/hypothyroidism, multiple sclerosis, rheumatoid arthritis, Crohn's disease, ulcerative colitis, celiac disease), gastro-intestinal issues (inflammatory bowel disease, constipation, diarrhea, "leaky gut") food sensitivities, and general weight loss and improved health.
"I am excited to continue to help bring to light the new discipline of Functional Medicine and Clinical Nutrition at several of Aligned Modern Health's northside locations," said Dr. Alaina Gemelas. "We believe that living a healthy, balanced life should be fun and we will continually offer unique ways to keep your mind, body and spirit aligned."
Dr. Gemelas is currently accepting new patients. She offers a free 15 minute consultation for Functional Medicine and Clinical Nutrition or with the clinic's Acupuncturists or Chiropractors. In addition, Dr. Gemelas is in network with Blue Cross Blue Shield. They are more than happy to check your coverage prior to starting any treatment.
###
About Aligned Modern Health
At Aligned Modern Health, we strive to help people feel better, live with less pain, and live life to the fullest. We work with the best Chiropractors in Chicago, and encourage our patients to broaden their view of health and wellness, offering acupuncture, Functional Medicine and Clinical Nutrition and massage therapy.
At Aligned Modern Health we create a customized care plan for everyone that walks in the door; we don't have any packages or minimum visits. Our goal is to get you back to doing the things you love as quickly as possible!! Our commitment to quality care and customer experience can be seen in our Yelp reviews as we are consistently one of the highest rated Chiropractors and Wellness clinics in all of Chicago at our locations in Lincoln Square, Lincoln Park at Diversey, the West Loop, Streeterville, and Lakeview in the Southport Corridor.
For more information please visit us at http://www.alignedmodernhealth.com.