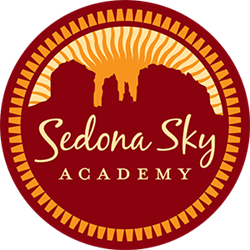 SEDONA, Ariz. (PRWEB) February 26, 2015
Shame might be universal but resiliency is not. Fortunately, a leading residential treatment center for adolescent girls is now directly addressing both shame and resiliency with the application of a highly experiential therapeutic methodology based on the research of Dr. Brene Brown, a university professor and author of two New York Times bestsellers.
Sedona Sky Academy has announced the implementation of the Daring Way™ method to help girls develop shame resilience skills. According to Dr. Brown, shame is the fear of disconnection. During the Daring Way™ process, certified facilitators explore topics such as vulnerability, courage, and worthiness in relation to shame. Students are invited to examine the thoughts, emotions, and behaviors that are holding them back and identify the new choices and practices that will move them toward more authentic and wholehearted living (The Daring Way™).
"Adolescent girls very often feel what we call 'deep scarcity,' the idea that they're never good enough, pretty enough, even relevant enough," explains Mike Gurr, MS, MA, LPC, CDWF, Clinical Director for Sedona Sky. "The Daring Way™ concept is not to get rid of shame – to be human is to be vulnerable – but we're teaching resilience through values exercises, self-compassion, empathy, creating an awareness of what exists beyond our control and how we can best deal with it in an authentic way."
Research indicates that adolescent girls report higher levels of self-objectification, body shame, and depression than boys, making this a natural fit for the all-girls school. In addition, Dr. Brown's research reveals that shame-prone kids are predisposed to depression, bullying, eating disorders, defiance, and addiction, many of the issues with which incoming Sedona Sky Academy students struggle.
"Sadly, evolving technology creates a whole new arena for feelings of shame as young girls navigate social media and culturally defined standards of perfection," says Gurr. "I've been working with teens for a long time – previously with Copper Canyon Academy, then when that closed, I became Clinical Director for the new Sedona Sky Academy – and my experience is that most every girl carries some sort of shame whether that be from past trauma, in their recovery from substance abuse, or something else. Until they actually understand and deal with their shame, the girls' ability to do therapeutic work is very limited. What the Daring Way™ provides is a proven set of tools to help these girls return to their home and school environments with more courage, compassion and connection."
Sedona Sky Academy is conducting three-day intensive Daring Way™ workshops for families, and continues the process with students in small groups. They also have plans to provide workshops for other professionals seeking to learn about the Daring Way™ method in the near future.
Located just outside Sedona, Arizona, Sedona Sky Academy is a fully licensed and accredited residential treatment center serving adolescent girls ages 13-18 who may be experiencing family or peer conflict, academic failure, self-esteem issues, drug or alcohol use, and more. With 30 acres set in idyllic year-round weather, program highlights include a world-class horsemanship program, competitive athletics, rigorous college-prep academics and SAT and ACT scores above the national average, and outstanding family workshops and peer mentorship programs. The great number of Sedona Sky Academy reviews and testimonials attest to the program's positive life-changing effect on families. For more information, visit http://www.sedonasky.org.
###