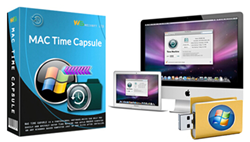 Auckland, New Zealand (PRWEB) February 26, 2015
Mac Time Capsule is a useful tool for Mac back up to computers that are running on the Windows. Launched by Weisoft Limited, the software is remarkable for its simple and clutter-free interface and several valuable features. The company is now offering the software at great prices under their promotional offer. The application supports Windows XP, Windows Vista, Windows 7 and Windows 8 OS, and anyone can download the software from their website Backupitnow.com and can install it and it will start taking the backup instantly.
According to the spokesperson of the company, they are running this promotional offer for a limited period. People can enjoy discount prices on one, two and five license packs of the software. Once the offer ends, the software will be available at its regular price of $49.9 per 1 Mac. Thus, people can take advantage of this promotional offer to grab the tool at a discount price in order to backup Mac to PC at any time and in an easy and automated manner. The spokesperson reveals that Mac Time Capsule is a simple data recovery tool for the Mac users and they can simply back up the data in any Windows based computer.
Mac Time Capsule is often considered a high-performance and user-friendly backup tool for Mac users and the promotional offer will draw the attention of a large number of users who want to keep their valuable data safe and protected. The software allows time machine to windows backup, even if the hard drive fails. A Mac OS X user can easily access, copy and create files from a corrupt hard drive, using the software.
Besides offering cheap prices, Weisoft Limited will provide the lifetime free technical support to the users who want to backup Mac to Windows. Moreover, a user will also have an opportunity to lifetime free upgrade to the latest version. The offer is also backed by a 30-day money back guarantee. In order to learn more about the promotional offer and to download the software, one may follow the link http://www.backupitnow.com/promotion/autumn-promotion/.
About Weisoft Limited
Weisoft is a New Zealand based software company that offers a range of backup tools for Mac users. All tools are easy to use and feature-rich to safeguard and protect user data on different devices, running on Mac OS X. The tools are available at the lowest prices with unlimited support and a money-back guarantee.
For Media Inquiries –
Contact Person:
Telephone: 64-9-4155988
Email: support(AT)backupitnow.com
Website: http://www.backupitnow.com