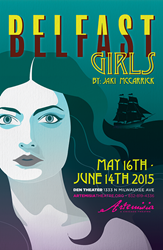 "Our cast is amazing, and we have more support than we've ever had. Belfast Girls is an extraordinary event – one not to be missed."
(PRWEB) February 26, 2015
Jaki McCarrick's play, Belfast Girls, about five young women who travel to Australia by ship in 1850 to escape the Irish Famine, will run as Artemisia's American premiere from May 16, 2015 to June 14, 2015, in Chicago at The Den Theatre in Wicker Park. Performances are Thursday, Friday and Saturday at 7:30 pm, Sunday at 6:00 pm, with an additional matinee on Saturdays at 3:00 pm.
Preceding its American premiere are non-stop accolades for Belfast Girls from overseas. McCarrick has been long listed for the Irish Laureate Award and shortlisted for the 2014 Susan Smith Blackburn Prize. Belfast Girls also received a well-regarded staged reading by Artemisia in Chicago last year, which set the tone for this highly-anticipated premiere.
The Committee for the National Commemoration for the Irish Famine invited the play to be read as part of their events in Drogheda in 2012 and, currently, McCarrick is in talks with a U.S. based production company to develop Belfast Girls into a feature film.
"This event, this premiere, is so important," says Julie Proudfoot, Artemisia's Artistic Director and Founder, "Not just to Artemisia in advancing its mission, but it's a great story—one I want Chicago audiences to see and to talk about. Our cast is amazing, and we have more support than we've ever had. Belfast Girls is an extraordinary event – one not to be missed."
Tickets are available on Artemisia's website or by calling Artemisia's Box Office at 832-819-4336. To become a sponsor, follow the company's progress, or receive more information about Artemisia, please visit http://www.artemisiatheatre.org/
For the latest reaction to Belfast Girls, read "It Must Be the Way the World Works I'm Angry At: Belfast Girls" by Regina Buccola, Associate Professor in the Department of Literature and Languages at Roosevelt University in Chicago.
Artemisia, A Chicago Theatre is a not-for-profit theatre founded in 2011 by Artistic Director Julie Proudfoot with the mission of producing world and American premiere plays that empower women and challenge the audience with an unconventional view of the feminine experience.