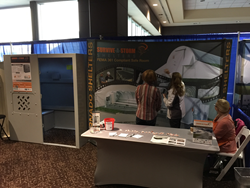 Oklahoma City, Ok (PRWEB) February 26, 2015
The storm shelter industry welcomed several thousand visitors to the 4th Annual National Tornado Summit held in Oklahoma City this week despite hazardous weather conditions throughout the Southwest that made travel challenging.
Most schools were closed in Oklahoma City on Tuesday for the first day of the show as road crews struggled against freezing temperatures to clear ice and snow from roadways. The winter storm, however, did not appear to have put much of a damper on turnout at this year's summit.
The National Tornado Summit offers public officials, academics, engineers, storm shelter manufacturers, weather forecasters, insurance companies, and other attendees the opportunity to collaborate prior to the spring tornado season. They could sift through emerging research on building more storm resistant structures, promote the message of storm resiliency, and review and evaluate new storm shelter products available in the market.
One company that turned heads at this year's summit was Survive-a-Storm Shelters. A crowd milled around Survive-a-Storm's oversized booth where three above ground steel storm shelters were on display. Departing from the traditional painted-on finish, Survive-a-Storm's glossy powder coated shelters had more in common with high-end lawn furniture than with their distant cousins on display by some other manufacturers. The company also offered tours of its community storm shelter situated a few miles up the road in the parking lot of a Home Depot® store where the company's shelters are distributed.
According to Matt Williams, vice president for Survive-a-Storm Shelters and the treasurer of the National Storm Shelter Association (NSSA), "It is great to see how much this annual summit has grown in the past few years. The number and variety of storm shelter vendors has increased, and it's clear that the message of providing safe, affordable shelters is permeating the industry."
Homeowners can now shop for storm shelters when they head out to make home improvement purchases this spring. That's because Survive-a-Storm Shelters is now distributing its FEMA-compliant storm shelters through The Home Depot®.
The company's complete line of FEMA-compliant storm shelters are available through The Home Depot® website and in select Home Depot® store locations in Oklahoma, Texas, Arkansas, Kansas and Missouri. The move makes buying and installing a storm shelter more timely and efficient, according to Williams.
"Until recently storm shelters were only available on a very local level, resulting in disruptions in the supply of shelters during periods of heavy demand—such as shortly after a tornado outbreak. Distributing through The Home Depot® has increased consumer access to storm shelters.
"Furthermore, confusion about product testing and quality have, unfortunately, been far too common in the storm shelter industry. Survive-a-Storm Shelters have been designed by licensed professional engineers, tested at Texas Tech University, and manufactured and installed in accordance National Storm Shelter Association (NSSA) and FEMA guidelines, providing reassurance that the shelters distributed through The Home Depot® meet these very stringent requirements," Williams said.
Having high quality storm shelters easily available to families throughout the country is more crucial than ever, according to recent data from the NOAA Storm Prediction Center in Norman, Oklahoma and interpreted by the Federal Alliance for Safe Homes (FLASH®). The data show that nearly 90 percent of U.S. counties experienced a tornado watch from 2003 through 2014, and the affected area goes well beyond the 10 states that make up the area labeled "tornado alley." The average family spent 27 hours per year under a watch.
Consumers purchasing shelters through the Home Depot® website are encouraged to have their shelters installed by a qualified local contractor and inspected to ensure that shelter installation complies with the manufacturer's guidelines for installation. Survive-a-Storm Shelters sold through Home Depot® retail stores are delivered and installed by Survive-a-Storm, with the cost of standard delivery and installation included in the price of the shelter. Costs of purchasing a Survive-a-Storm Shelter range from $3,500 to about $5,000.
Survive-a-Storm above ground and underground shelters are constructed of steel and are designed to provide near absolute protection against EF5 tornado winds (i.e., wind speeds of up to 250 miles per hour). The Georgia-based company manufactures a full line of FEMA-compliant underground tornado shelters, above ground storm shelters, community safe rooms, survival bunkers and bulletproof panic rooms. Its storm shelters and safe rooms are sealed by licensed professional engineers as compliant with FEMA 320/361, ICC-500, and IBC 2009. Its tornado shelters have also passed rigorous debris impact testing simulating an EF5 tornado at the prestigious Wind Science & Engineering Research Center at Texas Tech University.
Survive-a-Storm Shelters is a division of Harbor Enterprises, LLC headquartered in Thomasville, Georgia and with offices in Oklahoma City (OK), Dallas (TX), Little Rock (AR), and Nixa (MO). Survive-a-Storm Shelters is a Producer Member of the National Storm Shelter Association (NSSA) and is a partner with the Federal Alliance for Safe Homes (FLASH®). The company distributes its residential storm shelters through Home Depot, and it distributes its community storm shelters nationwide. Survive-a-Storm Shelters are available on a Government Services Administration (GSA) contract.
Contact:
Matt Williams
Executive Vice President for Marketing, Sales & Government Affairs
Survive-a-Storm Shelters
matt(dot)williams(at)survive-a-storm(dot)com
405-254-6464
http://www.survive-a-storm.com/