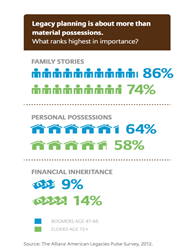 Serving is exactly what the majority of people who choose direct-care occupations are doing. In our experience, it's more of a calling than a career choice. We want to ensure they have a realistic opportunity of answering that call," said Ryan Gragg
Raleigh, North Carolina (PRWEB) February 27, 2015
Direct-care workers represent over 30 percent of the U.S healthcare workforce, according to a 2012 projection by the Paraprofessional Healthcare Institute. Reports from within the aging care industry, as well as from outside interest and trade groups, have clearly indicated that a sharp decline in the availability of quality staff to care for America's rapidly aging population is imminent if a solution for better working conditions and wages is not discovered. MyWisdomLink.com has introduced an immediate solution that will not only improve wages, but it will also provide a practical solution for aging adults to preserve their most valued asset – their personal, non-monetary legacy.
MyWisdomLink.com is a private, online repository designed for adults to safely share and preserve their wisdom and personal legacy for generations to come. It is also a concierge service and content management company. My Wisdom Link has an ambitious goal to revolutionize direct-care workforce opportunities with its new Legacy Companions program, a first-of-its-kind plan with a goal to significantly raise wages to nearly double the current national average. Direct-care workers selected for the Legacy Companions program will earn $20 per hour, a significant improvement from the national average hourly wage of $10.63. Direct-care workers include those who work as certified nursing assistants, personal care aides, and home health aides.
Legacy Companions will launch first in North Carolina, with the expectation of a follow-on program in the state of Florida later this year. According to the US Bureau of Labor Statistics, direct-care workers classified as home health aides and personal care aides ranked as the second and third fastest-growing occupations in the nation. In North Carolina, according to state occupational projections, 43,340 additional direct-care workers are needed by 2016, which represents a 43% increase in demand. The looming challenge, however, is that the growing need for their specialized work coupled with their notoriously low wages will make it difficult to fill the growing gap between demand and qualified workers. Legacy Companions is designed to be a part-time, supplemental income opportunity for direct-care workers who are currently working in the field. The goal of the new program is to provide current employees in the direct-care workforce with a solution to remain in the industry and continue serving a population that grows by over 10,000 people every day.
"Our goal is to become a valuable solution among the most qualified direct-care employees, providing them a means to earn an additional income by working with the same patients and clients they have chosen to serve. Serving is exactly what the majority of people who choose direct-care occupations are doing. In our experience, it's more of a calling than a career choice. We want to ensure they have a realistic opportunity of answering that call," said Ryan Gragg, Co-Founder and President of MyWisdomLink.com.
Even with the recent surge in non-medical service franchises, changes in state laws and regulations have created a vacuum in the availability of services and options for direct-care workers who constitute a significant portion of the staff at national, state, and local providers. My Wisdom Link's goal is to offer their proprietary service within the existing network of direct-care workers, which will allow them to continue working for their current employers. The proprietary program will offer adults who enroll in the Legacy Companions' program an opportunity to engage with a personal concierge to begin preserving and sharing their non-monetary legacies with family members and future generations. Perhaps more importantly, it will enable adults to stay actively connected to their family as they age – anytime, anywhere.
XXX
My Wisdom Link (http://www.MyWisdomLink.com) is a personal legacy archive and health-oriented private social engagement platform designed to empower adults to age well and to age meaningfully by sharing their wisdom and experiences through story telling and real-time communication with family and close friends. It also serves as a secure time capsule for their future generations through hosted video, photos, documents and text-based entries.