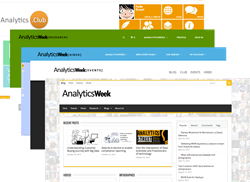 There is a goldrush on big data and we are providing the tools to help you get to it!
Boston, MA (PRWEB) February 26, 2015
Big Data and Analytics is hotter than ever before with more and more businesses jumping into the bandwagon to be data and analytics driven. AnalyticsWeek was working with Boston and NYC community in 2014 in figuring out the best ways to help businesses and community members to stay abreast with latest and greatest in data and analytics. AnalyticsWeek is taking the community driven success stories to replicate in 8 other data driven US cities.
AnalyticsWeek is taking the community best practices to 10 US cities. March 2015 will be the launch month for AnalyticsWeek's Washington DC and Chicago chapter. AnalyticsWeek is pursuing this expansion with the help of its long term partner - PwC. The community chapter will start with AnalyticsFair (AnalyticsWeek's hiring arm).
AnalyticsWeek is truly happy with 2015 rollouts thus far which include successful chapter launched in: Philadelphia, Atlanta, Austin and Seattle. As per AnalyticsWeek's Sachin Bhate: "We are blessed with the vibrant data and analytics community in Boston and around 8000 super charged and data curious members around US. We are doing everything in our reach to learn and help out our members and businesses to stay on top of rapidly growing data and analytics domain. We are really excited for our roll outs and expansion and we are taking all the cautionary steps to make it a win-win for our community members and partner businesses."
"There is a long and curvy road ahead of us but we have all the right members, supportive communities and partner businesses to create a beneficial platform that contributes and nurtures everyone. There is a gold rush on big data and we are providing the tools to help you get to it," Vishal Kumar of AnalyticsWeek added.
Analytics.Club is a community arm of AnalyticsWeek focusing on stitching data and analytics communities and making available all things analytics to them. Through AnalyticsWeek's rapidly growing partner programs and subscribers, Analytics.Club, which has both offline and online components is poised to become a hub of all things analytics for businesses and community members.
Offline: Is a set of meetups across US stitching the local community around the subject of data and analytics.
Online: Analytics.Club hosts content and community building tool to enable online collaborations within its online subscribers.
AnalyticsWeek [HIRED]: A talent discovery arm of AnalyticsWeek helping its community members and partner businesses discover each other faster than traditional means via set of offline programs and online programs.
Offline: AnalyticsFair(Data Analytics Career Fair), Talent open house(Company sponsored internal recruiting open house) and agency search(Custom talent search).
Online: AnalyticsWeek HIRED: An online portal to connecting top talents in data and analytics with best analytics driven businesses.
AnalyticsWeek is an all things analytics platform which hosts various community curated programs to educate businesses and professionals on the art and use of analytics. AnalyticsWeek is a growing community of 8000 community professionals and 90+ businesses to use wisdom and power of crowd to learn and provide for faster methodology adoption on the topic of data and analytics. Through various offline/online platforms AnalyticsWeek keep the community on top of latest happenings in the field of applied data and analytics.
To join AnalyticsWeek community, please sign up with Analytics.Club or join the newsletter to stay on top on this fast and furious world of data and analytics.