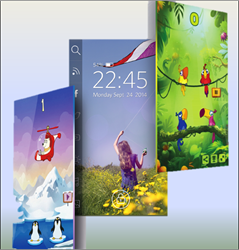 San Francisco, Calif. (PRWEB) February 26, 2015
Celltick, a leader in mobile marketing, today announced that the Start based Android interface has been selected by over 40 device manufacturers and mobile operators around the globe, who sell over 100 million devices a year, as their interface of choice. The company has witnessed an increasing adoption of its Start platform by partners due to its superior performance, continued improvement, data intelligence capabilities, and high level of user satisfaction.
Start is an intelligent customizable interface layer for Android devices that provides users with what matters most to them when they wake up their phones. It provides users with fast access to apps, contacts, news feeds, social media, music, and more. Start's data intelligence customizes the interface to make it unique for each user while enabling operators, device manufacturers, and advertisers to benefit from targeted engagement. Consumers have shown how much they like Start by making it the highest ranked app on Google Play, top amongst its peers with over 80,000 reviews.
NEW VERSION RELEASE
Celltick announced today the release of a significant new version of Start to the market. With this version, and the introduction of LockGames for the first time, users will be able to enjoy more interactive engagement on the start screen of their device
"Over 50% of the time consumers turn on their smartphones with great anticipation, but then do not engage with it," said Amit Or, Head of Start BU at Celltick. "In this new version of Start we are introducing LockGames to better engage users with their mobile phones during these idle times. We are confident that this new features will lead to additional and significant engagement time on Start."
In addition, the new Start version includes more customization options, stickers that can be added to further personalize the start screen, and all new notifications.
Start has an intelligent backend that allows users to personalize their start screen to their personal preferences while providing intelligent suggestions based on the user's behavior. Start's recommendation engine is based on big data technologies and utilizes collaborative filtering and predictive analysis techniques for individualizing the start screen and providing ongoing recommendations based on device usage.
"We have been extremely focused on providing users with what matters most to them on the first screen of their mobile devices. We are delighted to see significant market adoption of our vision and the 100 million device reach marks a very important milestone for us," said Ronen Daniel, CEO of Celltick. "We are determined to continue providing value to our end-users as well as to our distribution and monetization partners by developing the product based on how people use their smartphones around the world. Our newly introduced LockGames are a clear example of how our data intelligence capabilities drive innovations on Start."
Over the past few months, Celltick has experienced an increase in momentum with a number of partners, including tier one operators, large media companies, and device manufacturers, adopting the Start ecosystem for their users as well as launching devices in the market with Start. In 2014, Celltick powered over a billion transactions for virtual and physical goods across its products in over 25 countries.
Celltick will be exhibiting at the Mobile World Congress 2015 in Barcelona, Spain from March 2-5. You can meet Celltick executives in the App Planet area in Hall 8.1, Stand C20.
####
About Celltick
Celltick is a global leader in mobile marketing. Celltick's Start is a next generation personalized intelligent interface for Android devices. Celltick is unique in creating and managing mass market mobile marketing solutions for mobile operators, large media companies, device manufacturers and large brands. Celltick enables its partners to engage and monetize their users via mobile. The company drives billions of transactions annually across more than 110 million active consumers across its different mobile platforms in over 25 countries. A rapidly growing company, Celltick has subsidiaries in Europe, Asia, South America and the U.S. For more information, visit http://www.celltick.com.
Press Contacts:
Celltick
Ramgopal Vidyanand/Shirit Flider
press(at)celltick(dot)com