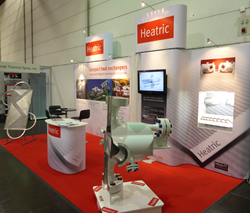 The Prestige System is ideal for us as nearly every show we attend has a different floor plan and size.
(PRWEB UK) 26 February 2015
Heatric have been busy exhibiting around the globe this year. Having already showcased their products and services at 6 events from Korea to the USA, they are still due to exhibit in Barcelona, Seoul and Manchester.
Heatric have been manufacturing compact diffusion bonded heat exchangers since 1985 and are best known for their presence in the oil and gas markets. With sales offices spanning across the world in Poole, Houston, Rio de Janeiro, Singapore and Sydney, the company are always keen to generate new leads and projects and have already booked into 9 shows around the world including the USA and Singapore for 2015.
The units manufactured by Heatric are unlike other heat exchangers, they are made by a unique solid-state process known as 'diffusion bonding'. This bonding process creates an exchanger that boasts exceptional strength and integrity with no joints, welds or points of failure, as well as being 85% smaller and lighter than traditional exchangers.
Due to the frequent exhibiting that the company takes part in, Roger Foggitt, Marketing Manager at Heatric, wanted to ensure that they had a memorable presence at the shows. Roger also wanted to guarantee exhibiting was cost effective for the company, after taking all these factors into consideration the company now use a system called Prestige, exclusive to exhibition stand company Quadrant2Design.
"The Prestige System is ideal for us as nearly every show we attend has a different floor plan and size. It also allows us to easily build in behind-stand storage space to suit the stand size and location without the need to book shell scheme 'extras' or fixed structures. Without the flexibility of the Prestige System the cost of fixed stands would be prohibitive. The ability and ease of self-set-up by our own staff also saves money especially as we are not paying a contractor to travel all around the world to set up for us as our shows are very rarely in the UK."
Heatric are constantly generating new leads and projects from their attendance at exhibitions, a combination of building awareness about what they do and showcasing their product produces great results. Roger believes that their stand plays a large part in this.
"The impact of the stand is always very good, and the ability to easily 'go high' with extra modules also helps where we are not building inside a shell scheme. Having a Prestige system has allowed us to 'up our game' in terms of presence and brand over the last 18 months. "
For more information about Heatric visit http://www.heatric.com or email htrc-info@meggitt.com.
To learn more about exhibiting with the Prestige Events System and exhibition company Quadrant2Design visit http://www.prestige-system.com