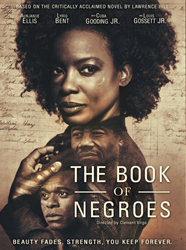 Roots for the 21st Century -- The Philadelphia Daily News
New York, NY/Toronto, Canada (PRWEB) March 05, 2015
A universal story of loss, courage and triumph, "The Book of Negroes" recounts the harrowing journey of Aminata Diallo (Aunjanue Ellis, The Help, Ray) and her return home after being forced into slavery as a child. Following in the powerful tradition of "Roots", the acclaimed mini-series event, which just had its U.S. broadcast premiere on BET, is now available to purchase for stream or download from all major digital download platforms.
An epic dramatic adaptation of the critically acclaimed book by Lawrence Hill, "The Book of Negroes" depicts the extraordinary life of Diallo – an indomitable African woman who survives against all odds in a world that forever underestimates her. Kidnapped by slave traders in West Africa and subsequently enslaved in South Carolina, Aminata must navigate her way through the American Revolution in New York, the isolated refuge of Nova Scotia and the treacherous jungles of Sierra Leone, before ultimately securing her freedom in England at the dawn of the 19th century.
The sweeping six-part historical drama, directed by award-winning filmmaker Clement Virgo ("The Wire", Poor Boy's Game) and co-written by Hill and Virgo, also stars Academy Award®, Golden Globe® and Primetime Emmy® winner Louis Gossett Jr. (An Officer and a Gentleman, "Roots", "Boardwalk Empire"), Academy Award® winner Cuba Gooding Jr. (Jerry Maguire, A Few Good Men) and Lyriq Bent ("Rookie Blue"), as well as Oscar® nominee Jane Alexander (The Cider House Rules), Ben Chaplin (The Thin Red Line) and Allan Hawco ("Republic of Doyle").
An official Canada-South Africa treaty co-production, "The Book of Negroes" was produced by Conquering Lion Pictures, Out of Africa Entertainment, Entertainment One and Idlewild Films. Executive producers include Damon D'Oliveira ("What We Have", "Lie with Me") and Clement Virgo for Conquering Lion Pictures; Lance Samuels ("Inescapable", Bang Bang Club) from Out of Africa Entertainment; Bill Niven ("Marion Bridge") of Idlewild Films; and eOne's Carrie Stein (Coco Chanel, Burn Up, Diamonds) and Margaret O'Brien ("Bitten", "Rookie Blue"). Other executive producers include Daniel Iron ("Cairo Time", "Away From Her") and Michael Levine ("The Republic of Doyle").
"The Book of Negroes" is produced with the financial participation of the Canada Media Fund , Shaw Rocket Fund, Film and Creative Industries Nova Scotia through the Equity Investment Program, Film and Creative Industries Nova Scotia through The Eastlink Independent Production Fund, and with the participation of Cogeco Production Program. The series is produced with the assistance of the Nova Scotia Film Industry Tax Credit and the Canadian Film or Video Production Tax Credit.
About Entertainment One
Entertainment One Ltd. is a leading international entertainment company that specializes in the acquisition, production and distribution of film and television content. The company's comprehensive network extends around the globe including Canada, the U.S., the UK, Ireland, Spain, Benelux, France, Germany, Scandinavia, Australia, New Zealand, South Africa and South Korea. Through established Film and Television divisions, the company provides extensive expertise in film distribution, television and music production, family programming, merchandising and licensing, and digital content. Its current rights library is exploited across all media formats and includes more than 40,000 film and television titles, 4,500 hours of television programming and 45,000 music tracks.