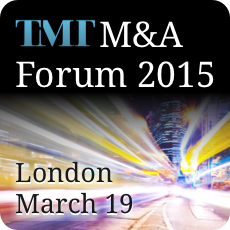 (PRWEB UK) 26 February 2015
Leading telecom, media and technology merger and acquisition executives, investment bankers, investors and advisers from across the globe are gathering in London on March 19, for the annual TMT M&A Forum as deal flow in the sector accelerates. (http://www.tmtfinance.com/merger).
Event organisers TMT Finance says this year's event will be the biggest this decade as telecom consolidation and convergence, as well as plentiful financing, drives a wave of deals in both developed and emerging markets.
Merlin Piscitelli, Senior Director, Merrill DataSite International, who will be Chairing the TMT M&A Panel which features key speakers from Telekom Austria, JP Morgan, Lazard, Linklaters and FTI Consulting, commented:
"In 2014, Merrill DataSite opened 5,000 new virtual data rooms for due diligence worldwide. We witnessed a large amount of consolidation in different industries through the projects we were engaged in, and TMT was one of the top sectors. We're excited to be sponsoring the TMT M&A Forum again this year, as we see preparation for TMT projects ramping up and a definite increase in due diligence activity in this space."
Over 50 key speakers have been announced for the event so far, which features a series of Leadership Panels, Keynote Presentations and Peer to Peer Round Table Debates assessing how transactions are driving change across the sector. The event is Chatham House Rules with no external media attending.
Other key session themes include the TMT Strategy Leaders Panel; Regulation and Competition Panel; Mobile Infrastructure; Unified Communications; Media and Convergence; Datacentres and Cloud; Emerging Markets Risk; Raising Finance; Internet Infrastructure Investment; Investing in Innovation; Merger Integration in Telcos; Opportunities in M2M and the CFO Round Table.
Companies represented by speakers include Etisalat, Virgin Media, VimpelCom, Telefonica, Ooredoo, Microsoft, BSkyB, CityFibre, Cisco, Six Degrees Group, Telekom Austria, ABRY Partners, Antin Infrastructure, Arcus Infrastructure, Black Green Capital, Digital World Capital, Eaton Towers, AlixPartners, Arma Partners, Citigroup, Credit Agricole CIB, FTI Consulting, JP Morgan, Lazard Frères, Linklaters, Macquarie Capital, Hardiman Telecommunications, Index Ventures, ING Commercial Banking, PwC, Standard & Poor's, Huawei and Silicon Valley Bank.
More key speakers will be announced.
Find out more, and register to attend at http://www.tmtfinance.com/merger