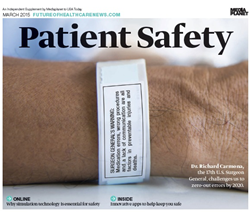 We have to be much better at communicating our intentions to the patient and ensuring that they understand what we communicate
New York, NY (PRWEB) February 27, 2015
Over 440,000 patients die each year as a result of preventable medical harm. The time is now to educate readers on how they can take control of their health, no matter their condition. This campaign will serve as a guide to educate and inspire readers to learn more about how they can keep themselves and their loved ones safe with tips on topics ranging from hospital to anesthesia safety.
Dr. Richard Carmona graces the cover of the print publication. He recently spoke to Mediaplanet about how patients can improve safety by getting involved in their health care. "We have to be much better at communicating our intentions to the patient and ensuring that they understand what we communicate," he urges.
The print component of "Patient Safety" is distributed within this weekend's edition of USA Today in New York, Los Angeles, Chicago, Atlanta, Dallas, Houston, Phoenix, and Kansas City with a circulation of approximately 450,000 copies and an estimated readership of 1.3 million. The digital component is distributed nationally through a vast social media strategy and across a network of top news sites and partner outlets. To explore the digital version of the campaign, click here.
This campaign was made possible with the support of The Leapfrog Group, The Louise H. Batz Patient Safety Foundation, Center for Patient Safety, Intellicentrics, American Society for Anesthesiologists, American Association of Nurse Anesthetists, Anthelio, Edwards Lifesciences, the Society for Simulation in Healthcare, and more.
About Mediaplanet
Mediaplanet is the leading independent publisher of content-marketing campaigns covering a variety of topics and industries. We turn consumer interest into action by providing readers with motivational editorial, pairing it with relevant advertisers, and distributing it within top newspapers and online platforms around the world.
Press Contact:
Jory Beer
(646)755-7955
jory(dot)beer(at)mediaplanet(dot)com