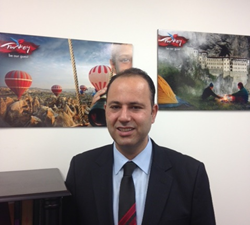 We attracted more than 37 million visitors in 2014 and Turkey is currently the 17th largest economy in the world and sixth largest economy among European countries.
New York, NYblog (PRWEB) February 27, 2015
To many travelers, Turkey is as intriguing and mysterious as it is historical – biblically. For the adventurous and inquisitive traveler, Turkey offers a world of opportunities to explore, discover, and bathe in history, or in one of its famous Turkish baths. ExpertFlyer recently went One-on-One with Murat Karakus, Director of Culture & Tourism for Turkey to gain a better understanding of the country's rich culture and discover hidden gems outside the magnificent city of Istanbul. Thanks to increased tourism, Turkey has elevated its economy to $820 billion (U.S.) annually and is ranked 6th in the world as a travel destination behind only France, U.S., China, Spain, and Italy.
For those who enjoy adventure and the great outdoors, travelers can spend days exploring ancient ruins, including 13 sites listed on the UNESCO World Heritage List and some of the most famous archaeological sites in the world. From the Trojans and the historical city of Helen to the Roman Empire city of Ephesus and a variety of marvels from the Byzantine period, Turkey is an explorer's paradise.
During the interview, Murak Karakus spoke of Turkey's success as a travel destination with great pride. "We attracted more than 37 million visitors in 2014 and Turkey is currently the 17th largest economy in the world and sixth largest economy among European countries," he cited. "Because of our rich and diverse culture, Turkey is particularly appealing to families who enjoy an amazing cultural experience and the great outdoors, archeology buffs, and active sportsmen who enjoy golf, skiing, yachting, hiking and hot air ballooning. Turkey offers a cornucopia of activities to satisfy nearly every taste bud."
"Turkey is an amazing destination that combines unsurpassed historical significance with modern day luxuries and activities," said Chris Lopinto, president and co-founder of ExpertFlyer.com. "And, because of its geographic location, it has become a melting pot for different cultures resulting in an overall experience that is hard to match anywhere else in the world."
But probably two of the most legendary activities in Turkey are their Turkish baths and testing your negotiating skills with the country's street vendors, known to the locals as "haggling." The Turkish bath, or hamam, is the quintessential Turkish experience and is an absolute must for the ultimate in relaxation. Turkish Spas combine the traditional hamam experience with Far Eastern accents such as aromatic scents.
"Haggling" is an art but the odds can quickly move in your favor if you follow these basic tips:

First, determine if haggling is appropriate: Are you in a luxury department store or in an outdoor market or bazaar?
What is it worth to you? An item is only worth what you would pay for it. Discounts don't mean anything if it's still more than you want to pay for it.
Figure out the lowest price: That last amount yelled out as you leave and turn the corner is often the best price you'll get.
Obey the rules and don't hurry: There is no rush to haggling. Bid carefully, if the price is too much, leave and don't worry about having wasted a merchant's time. That's their job and they're very good at it.
To read the entire interview with Murat Karakus, please visit ExpertFlyer's blog.
About ExpertFlyer.com
Each month, ExpertFlyer's One-on-One blog goes face-to-face with the travel industry's leading decision makers to discuss and address topics relevant to many of today's business and frequent travelers.
ExpertFlyer.com was conceived and created by an eclectic team consisting of a veteran elite tier frequent flyer, an airline captain and corporate travel manager, and information technology professionals to deliver a 24/7 real time powerful air travel information service. The company provides its subscribers and corporate travel managers alike with a complete, concise and efficient way to access the ever-changing details of worldwide air travel information. For more information, please visit expertflyer.com.
Stuck in the middle seat again? Download the free Seat Alerts app from ExpertFlyer and get the window or aisle seat without hassle or frustration.
# # #