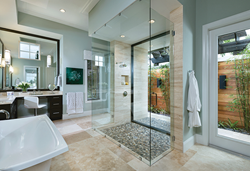 Tampa, FL (PRWEB) February 26, 2015
When luxury home customers build the home of their dreams, interior designers often step in to help select colors, materials and even furniture and accessories.
Does this really help save time, money and add value to the home? It appears that the answer is yes. Professionally designed homes often retain higher market values than generic homes and create a showcase over other homes.
Whether customers have a clear vision of their new home's design or need help navigating the possibilities, professional interior designer guidance has been shown to both add value and avoid costly mistakes when building a new luxury home.
The lengthy article provides ways that customer visions can be brought to life while still maintaining a cohesive design sense that fits with the house. This is especially important for custom luxury homes, as many of these homes are built from plans that have not been translated into physical spaces by construction yet.
The interior design article illustrates that top-notch interior designers are excellent listeners and skilled at bringing customer visions to life. They have a keen eye for construction and can often visualize a blueprint based off of very general descriptions. They'll quickly let customers know if a project is feasible and provide estimates of time, cost, and allocation of space.
The article goes on to review the methods interior designers use to add value to luxury custom homes.
Read the full article on interior design for new homes here.