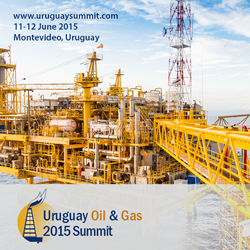 London (PRWEB UK) 26 February 2015
International Research Networks (IRN), together with Grupo BG de Eventos, are proud to introduce the inaugural Uruguay Oil & Gas 2015 Summit which will take place on 11th-12th June in the capital of Uruguay, Montevideo. This Summit comes at an exciting time for the region's industry, with onshore activities in Salto and Piedra Sola moving in the right direction for final oil discoveries, and promising offshore prospectivity with Total drilling the first exploratory well later this year.
This Summit will be held at a five star venue and will bring together existing and future operators in the oil and gas industry in Uruguay and Latin America. Delegates from international oil companies and the state oil company ANCAP (Administración Nacional De Combustibles, Alcoholes y Portland) will all gather to discuss the proven potential of the region, expected to offer vast investment openings to the oil and gas sector in upcoming years.
Speakers will address a range of subjects including:

Current offshore opportunities
Update on the regulatory framework
Health, safety and environment standards and requirements
Latest developments on seismic data acquisition
Investment opportunities in the hydrocarbon sector
Onshore prospectivity
Uruguay's Energy incentives
Downstream investment opportunities
Exclusive updates by current operators
More information about the high-level Summit can be found on the website: http://www.uruguaysummit.com.