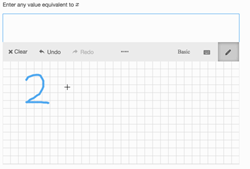 Optimized the educational experience for students using touch screen devices by enabling our Math questions with handwriting functionality.
New York (PRWEB) March 01, 2015
Learnosity, a transformative education technology company, today announced the launch of their new suite of technology-enhanced question types enabled with handwriting recognition technology. This allows students to digitally "write" complex equations using operators and integrals without the need for a custom keyboard on screen.
Students can choose between using the customizable onscreen keyboard to input symbols or can just "write" the required symbols and the handwriting recognition technology will translate them into machine-readable, digital information so that their answers can be automatically graded. This gives students all the cognitive benefits of handwriting whilst also allowing them to avail of the powerful auto-grading capabilities of the Learnosity Math engine which evaluates a student's response for mathematical accuracy rather than just treating it as a string of text. This means that any mathematically correct answer, even if in a different form to the answer entered by the question author, will be accepted.
"Traditional keyboards don't have the majority of symbols required for Math equations readily available to users, so for our Math Formula question types we've created customizable onscreen keyboards," said Learnosity CTO, Mark Lynch. "This is perfect for desktops and laptops, however the increasing prevalence of touch screen devices allows us to further optimize the educational experience by enabling our Math questions with handwriting recognition technology."
Learnosity has partnered with MyScript, the acknowledged market leader in accurate, high-performance handwriting recognition and digital ink management technology in order to offer this new enhancement. As well as recognizing over 200 mathematical symbols and characters the handwriting technology also recognizes geometric shapes and music notation which opens up a wide range of educational applications.
Gavin Cooney, CEO said "While some may think of handwriting as a dying art, emerging research shows that there's real value in continuing to practice this skill; handwriting increases brain activity and conceptual understanding, hones fine motor skills, and can predict a student's academic success in ways that keyboarding can't. This is because handwriting requires a different cognitive process and your brain is forced to do more when you write by hand."
Watch the video
Try it yourself
Both Gavin and Mark as well as VP of Business Development Ben Powell and President, Americas Judah Karkowsky will be attending the ATP Innovations in Testing conference in Palm Springs, March 1st to 3rd. Learnosity will be presenting the following sessions during the conference:
Monday 11:30 am – 12:30 pm: Locking it Down: The Key to Test Readiness and Security (with Houghton Mifflin Harcourt)
Monday 4:00 pm – 5:00 pm: Cloud Based Assessment – A Match Made in Heaven
Tuesday 10:30 am – 12:00 am: Don't Just Check the Box – Authoring TEIs Made Easy (with Houghton Mifflin Harcourt)
More information on each of the individual sessions can be found here.
About Learnosity
Learnosity is a rapidly expanding educational technology company. The company offers a set of tools and services that allow clients to incorporate powerful interactive assessment into their digital products quickly and easily. Run by a talented group of people who are passionate about transforming learning and assessment, Learnosity is committed to designing market-leading software to allow developers to create exceptional assessment products, make teachers' lives easier, and above all, instill a love of learning in students. The Company is seeing an annual doubling of revenues, and works with some of the leading names in the Education industry. The Learnosity Toolkit was recently named the Best K-12 Enterprise Solution by the SIIA, and National Champion for Innovation in the European Business Awards. Learnosity has offices in NYC, Dublin and Sydney. For more information contact Learnosity on +353 (0) 1 4498789, info(at)learnosity(dot)com or visit http://www.learnosity.com.