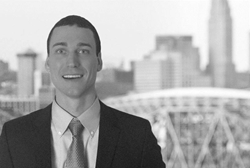 Boston, MA (PRWEB) February 27, 2015
Commonwealth Supply Chain Advisors, a leading supply chain consulting firm welcomes Kale Schulte to the company's distribution center consulting practice. In his new role Mr. Schulte will spearhead and execute client engagements in distribution strategy, distribution center design and distribution center optimization.
In addition to leading distribution center consulting projects, Mr. Schulte will play a key role in Commonwealth's ongoing efforts to maintain its working library of best-practices and project implementation standards and methods. "Kale will be integral to ensuring that Commonwealth's standard operating procedures remain intact and are communicated as the company indoctrinates new employees and brings on new customers," says Jennifer Thomas, Director of Business Development at Commonwealth. "This is a critical component of Commonwealth's efforts to consistently delight clients with both the Commonwealth consulting experience and the outcome."
Mr. Schulte brings Commonwealth over a decade of experience helping clients initiate and sustain significant improvements in enterprise performance. His career experience includes working as a solutions designer at warehouse automation company Kiva Systems (acquired by Amazon.com in 2012) and as a consultant for business transformation company Performix Consulting. Most recently Mr. Schulte worked for Performance Architects, a business and technology consulting company where he was a Business Intelligence and ERP Consultant for Oracle Implementations.
Mr. Schulte's strengths include data analytics, solution architecture and distribution center project management. He guides clients through the process of aligning distribution center strategy and the inner-workings of their distribution centers with their broader business objectives. Mr. Schulte holds a Bachelor of Science in Mechanical Engineering from the University of Minnesota and a Master of Business Administration from F.W. Olin Graduate School of Business - Babson College.
"I am pleased to welcome Kale to Commonwealth," says Ian Hobkirk, Commonwealth's Managing Director. "His strong analytical and project management abilities will strengthen both our project delivery capabilities and our internal continuous improvement initiatives."
Commonwealth Supply Chain Advisors is a leading supply chain consulting firm that helps companies of all sizes structure their supply chain networks, design distribution centers and select and implement warehouse management systems (WMS). Commonwealth is based in Boston and works with clients across the globe.