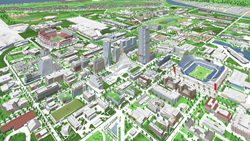 The BIM approach to Turner City is a great example of how we can take a technology that has become an industry standard and apply it in unique way to create new value
(PRWEB) March 02, 2015
Turner Construction Company is pleased to announce the release of Turner City 2014.
The company has produced Turner City – a city made up of major projects completed by Turner in a given year – since 1910. For 2014, the company created the city in-house with Building Information Modeling (BIM) technology.
Ben Ferrer, BIM manager, said, "It's exciting to take part in something that is such a wonderful tradition, something everyone looks forward to. Seeing your project in Turner City is a really proud moment." The 2014 Turner City includes projects located in 82 cities in eight countries in North America, Europe and the Middle East.
Touching on what is unique about this digital version, Ferrer explained, "We've added an incredible amount of detail and the city is more interactive than ever before. We can fly through and explore in many different ways. We can create 3D prints from the models. There are a lot of possibilities." In addition, someone exploring Turner City 2014 on the company's website will note a selection of projects completed by the company's Interiors and Special Projects Divisions.
The utilization of BIM to create Turner City exemplifies Turner's commitment to continuous improvement and embracing new technologies while honoring the history of innovation and the traditions that have set the company apart for 113 years. The modernized Turner City reflects the progress of the projects it comprises: the City includes sustainable buildings certified as LEED Platinum, Gold and Silver by the U. S. Green Building Council and approximately $5 billion of projects implemented lean practices and utilized BIM for trade coordination or other project functions.
The company views the application of BIM technology tools as a piece of larger process. "We leverage these tools as part of a lean framework that focuses on collaboration, continuous improvement, and maximizing customer value," said Jim Barrett, vice president and chief innovation officer. He added, "Part of that process of continuous improvement has to do with developing new technology tools, but it also has to do with finding new and creative ways to use the technology we have. The BIM approach to Turner City is a great example of how we can take a technology that has become an industry standard and apply it in unique way to create new value."
About Turner Construction Company
Turner is a North America-based, international construction services company. Founded in 1902, Turner first made its mark on the industry pioneering the use of steel-reinforced concrete for general building, which enabled the company to deliver safer, stronger, and more efficient buildings to clients. The company continues to embrace emerging technologies and offers an increasingly diverse set of services. With an annual construction volume of $10 billion, Turner is the largest builder in the United States, ranking first in the major market segments of the building construction field, including healthcare, education, sports, commercial, and green building. The firm is a subsidiary of HOCHTIEF, one of the world's leading international construction service providers. For more information please visit http://www.turnerconstruction.com.
About HOCHTIEF
HOCHTIEF is one of the most international construction groups worldwide. The company delivers complex infrastructure projects, in some cases on the basis of concession models. The Group operates in the transportation infrastructure, energy infrastructure and social/urban infrastructure segments as well as in the contract mining business. With nearly 81,000 employees and a sales volume of more than EUR 25 billion in FY 2013, HOCHTIEF is represented in all the world's major markets. With its subsidiary Leighton, the Group is market leader in Australia. In the USA, the biggest construction market in the world, HOCHTIEF is the No. 1 general builder via its subsidiary Turner and, with Group company Flatiron, ranks among the most important players in the field of transportation infrastructure construction. Because of its engagement for sustainability, HOCHTIEF has been listed in the Dow Jones Sustainability Indexes since 2006. Further information is available at http://www.hochtief.com/press.