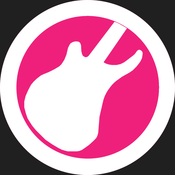 I didn't think learning how to play the guitar would be so easy!
(PRWEB) February 26, 2015
"KnowNote" was featured on NewsWatch as part of its monthly AppWatch, which features the latest and coolest mobile applications on the iOS, Android, and Windows markets. Andrew Tropeano, a mobile technology expert and host of NewsWatch, conducted the app review and shared with viewers how this application teaches users the idea of staying in rhythm and in tune.
Learning a musical instrument can be difficult. And nearly impossible for some people. But what if people could take something they already know and use to learn music and the idea of staying in rhythm and in tune? Well, that's exactly what the KnowNote app does.
Designed as a game, KnowNote takes users' basic typing skills on a QWERTY keyboard and turns them into the notes in popular songs. For example, if a user wants to play "Every Rose Has Its Thorn" by Poison, they pick an instrument and follow along on their keyboard by pressing the right key at the right time. This method allows people to learn the discipline of timing and switching keys. And after playing for a while, it will make switching to a real instrument easier.
Users get the choice to learn numerous popular songs from bands and musicians like Eric Clapton and No Doubt. There's even a studio in the app where users can compose their own songs. KnowNote is a free app and is available for the iPad and to play through the KnowNote website.
To learn more, visit http://www.knownote.com today.
About NewsWatch
NewsWatch is a weekly 30-minute consumer oriented television show that airs on the History Channel, FYI Network, and ION Network. NewsWatch regularly features top technology products and services, mobile applications for iOS, Android, and Windows devices, unique and beautiful travel destinations around the world, health and medical tips, and entertainment interviews on the show. NewsWatch airs on the History Channel at 6:00 – 6:30 AM ET/PT and on the FYI Network from 7:00 – 7:30 AM ET.
NewsWatch is located in the greater Washington, DC area and has been on the air for over 25 years. For more information or to watch the most recent episode, visit http://newswatchtv.com/appwatch.html.