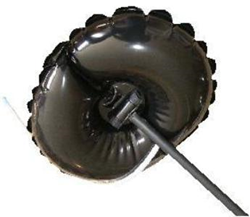 Stop fireplace heat loss with DraftStopper from Tamarack Technologies.
Buzzards Bay, MA (PRWEB) February 27, 2015
A fireplace can cause the average home to lose as much as 20 percent of its heat through the chimney's flue when the fireplace is not in use. It's a seldom-discussed home energy issue that Tamarack Technologies has solved with the introduction of a new small fireplace DraftStopper.
The small DraftStopper is actually a PVC pillow measuring 18" in diameter when inflated. It is quickly and easily placed into any metal or zero-clearance fireplace just below the damper. This size unit fits into round dampers, which are typically found in newly built condos and townhouses featuring metal fireboxes.
The company also distributes a second, larger unit for brick fireboxes.
Tamarack C.E.O. Tom Colasanto, announcing the addition of the new small DraftStopper, said: "The success we've had with DraftStopper units designed for brick fireboxes resulted in consumer demand from condo and townhouse owners for this smaller version. People are much more energy conscious today. Educated homeowners recognize that heat gets sucked up the chimney when their fireplace is sitting unused, wasting energy and money. That's why we believe the new smaller version of the original DraftStopper will be successful. Its energy savings, low cost, easy installation and easy removal make it ideal for the average homeowner."
The DraftStopper is manufactured using a proprietary 14 ml. polyurethane material specially formulated to resist pinholes from corrosive creosote as well as extreme weather fluctuations. For easy placement in the damper, a telescoping pole attaches to the DraftStopper pillow using elastic loops. The pole allows homeowners to position the pillow correctly without having to touch the sooty fireplace interior.
Suggested retail price for the DraftStopper from Tamarack Technologies is $66.00 with free shipping. The unit can be ordered through the company's web site: http://www.tamtech.com.