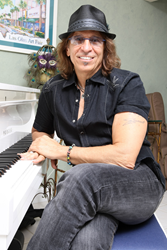 Mr. Supa considers his 27-year recovery to be his greatest accomplishment
New York, New York (PRWEB) March 02, 2015
New York singer/songwriter Richie Supa—Director of Creative Recovery at Recovery Unplugged™—will be delivering a plenary address entitled Finding the Music Within You: A Singer/Songwriter's Perspective on the Art of Healing and Recovery at this year's National Conference on Addiction Disorders (NCAD) and Behavioral Healthcare Executive Summit (BHES).
With more than 300 recordings to his name, Mr. Supa's songs have been recorded by some of the biggest names in the music industry, from Aerosmith and Bon Jovi, to Pink and Ozzy Osbourne. Despite all this success, Mr. Supa considers his 27-year recovery to be his greatest accomplishment. He has released several albums devoted to his sobriety, and his mission is to use music as an inspiration to those struggling with the disease.
In his plenary session—taking place Saturday, August 1, 2015, at the historic St. Louis Union Station Hotel—Mr. Supa will relate his own recovery journey, and how he has applied his experiences in developing Recovery Unplugged's innovative approach of using music to transform clients on an individual level. Mr. Supa's words of hope will motivate attendees to find their own strength to identify what can inspire each of their patients toward a lasting recovery, in the same way music did for him.
Dominion Diagnostics is the Title Sponsor of this year's conference. Dominion Diagnostics is also the Thought Leadership Partner for the 2015 Addiction Professional Panel Series, a nationwide series of expert panel events in 27 locations across the country. Visit http://www.addictionpro.com/panelseries for more information.
About Recovery Unplugged™
Recovery Unplugged™ Treatment Center is a rehab facility in Florida that offers a rehabilitation approach that is unique, long-lasting, and truly individualized. Recovery Unplugged™ combines traditional and cognitive behavioral rehabilitation approaches by using music as a catalyst to break down defenses, inspire, and motivate the change necessary for long-term recovery and sobriety. The best thing about the approach is that clients can take the skills and knowledge with them when they complete treatment to use throughout their lives.
About Vendome Healthcare
Vendome Healthcare produces high-quality publications and premier events for professionals in today's healthcare industry. From award-winning magazines to renowned conferences, Vendome works toward improving the productivity and efficiency of community members by supplying them with the tools they need to effectively—and profitably—bring their services and products to market. Backed by a team of editorial and marketing experts, Vendome Healthcare serves the needs of customers through a variety of solutions including online, print, face-to-face engagement, and more.