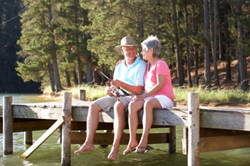 Clients who use a methodical approach to determining where to relocate – visiting different areas and communities and comparing each – are the clients who fare well in the process.
Libertyville, IL (PRWEB) February 27, 2015
Marian Schaffer, Principal and Founder of Southeast Discovery, a real estate consulting firm specializing in guiding Baby Boomers with their real estate needs in the two niche markets of retirement relocation and second homes in the Southeast region, recently cited 5 common mistakes she sees Baby Boomers make when choosing where to relocate at retirement.
"Finding the right area and community to relocate to is a process and it takes time," said Schaffer, who has over a decade of experience helping buyers looking for a retirement or second home in the Southeast navigate the process of identifying the right area and community for their needs. "Rushing the process is what causes mistakes that in the retirement phase of life can present unwelcome financial challenges, such as buying into an area or master-planned development that turns out not to be the right decision. This can result in having to sell and relocate again, which may have adverse financial consequences if the buyer's real estate purchase is sold at a loss. Even if that is not the case, the idea of uprooting again and making a second move can be very be stressful."
The five mistakes relocating Baby Boomer retirees make, according to Schaffer, are:
1. Focusing on the house first. "This is the incorrect way to start a search," said Schaffer. "We always tell clients we can find them an existing home, or a place where they can build one they will like that fits their budget and lifestyle. That's the easier part of the process; getting the area right is actually the first decision to be made. Finding a home shouldn't be the 'tail that wags the dog' when choosing where to relocate," according to Schaffer.
2. Another common mistake Schaffer sees is buyers who don't visit enough areas and communities before ultimately choosing a retirement location. Visiting multiple areas and communities firsthand provides great insight and gives a buyer many choices to compare and select from.
3. A third mistake relocating Baby Boomer retirees make is resigning themselves to staying near kids and grandkids, then later regretting not relocating to an area where they would have preferred to live.
4. Boomer retirees are also prone to choosing areas to relocate to where they have vacationed for years, only to find that vacationing in these areas and living in them full-time are often two very different experiences.
5. A fifth common mistake Schaffer sees is buyers who focus on getting 100% of what they're looking for instead of determining what really matters to them. "No place is utopia," said Schaffer. "Buyers need to make a bullet list of the ideal attributes they'd like to find in an area and a community, then rank these features in order of importance." Area factors to take into account include climate, cost of living, shopping and dining options, continuing education opportunities, outdoor recreation options, and access to health care and airports. Once a buyer has determined the non-negotiable features an area and a community must have, they then need to rank these items as they visit each area and community, according to Schaffer.
"Clients who use a methodical approach to determining where to relocate – visiting different areas and communities and comparing each – are the clients who fare well in the process," said Schaffer. "They create a check list and rate each area and community, and the housing available, to help determine what is best for them. Months and years later, we check in with them and find their methodical process worked, and they are very content with their decision about where to relocate."