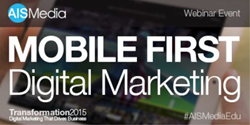 60% of global mobile consumers use their mobile devices as their primary or exclusive internet source. (Source:Internet Retailer)
ATLANTA, GA (PRWEB) February 26, 2015
In part three of the four-part Transformation2015 webinar series, AIS Media, Inc. will reveal "Mobile-First Digital Marketing" strategies and techniques. Discover how the dominance of mobile impacts website experience and content consumption. Find out how to connect with prospects in the new mobile economy. Join AIS Media, Inc., Wednesday, March 4, 2015 at 11 a.m. (EST) and learn how the digital marketing revolution is transforming business operations. The agenda includes:

Adaptive and responsive design pitfalls
Avoiding broken site display
Load time landmines
Data wise design
Thinking taps, not clicks
Relevant mobile messaging
Ignore this growing trend, and you could be missing out on potential customers. Avoid broken links, empty frames and brand-destroying display errors. Think Mobile First to deliver quality for every device.
Details and Registration: http://bit.ly/1DPoYrF
About AIS Media
AIS Media, Inc. is an Atlanta-based award-winning strategic digital marketing agency. Founded in 1997, AIS Media has helped hundreds of clients amplify digital marketing performance including the world's top brands, companies and organizations. For more information visit http://www.aismedia.com
###